Asus Padfone 2 with LTE gains GCF approval
If you are an owner of the Asus Padfone, you probably already know that Asus is expected to officially announce the handset's successor, the Asus Padfone 2 on or about the 16th of this month, and now further evidence has surfaced that Asus is indeed planning of announcing the new handset.
According to a report over on Softpedia, the Asus Padfone 2 has now gained approval from the Global Certification Forum, and delivers a little more info on the handset's spec sheet, in the form of LTE support, for bands 3, 7, and 20 that shows the device is destined for Asia, Latin America and Europe.
The successor to the Asus Padfone will again offer the user the combination of smartphone and tablet, but no doubt will cost more due to improved hardware, as although the official specs and features haven't yet been released, the speculation is that the Assus Padfone 2 will sport a 4.7-inch HD touch screen, a 13 megapixel auto-focus rear facing camera with LED flash, 1080p video and a 1.3 megapixel front facing camera.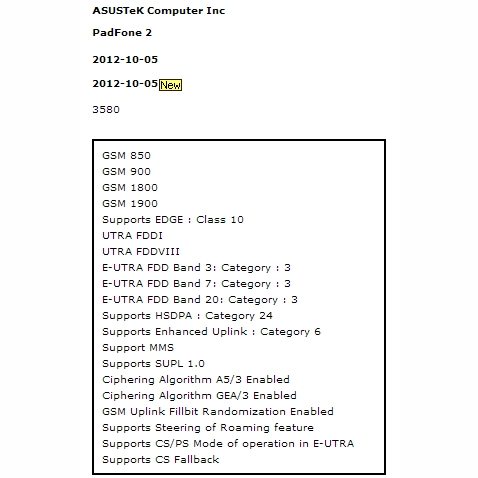 The Asus Padfone 2 is also expected to feature 2GB of RAM along with a 1.5GHz quad core processor, and come with a 2140mAh Li-ion battery, run the latest Android operating system, Android Jelly Bean, and of course we now know it will have LTE support.
Other than the three markets mentioned above, it is expected that a version of the Asus Padfone 2 will come to the USA at some point in the not too distant future.
A media event is to be held by Asus on the 16th of the month in Milan Italy, and in Taipei Taiwan, where it is expected Asus will officially launch the Asus Padfone 2. Are any of our readers fans of Asus devices, and will you be hoping to snap up the Asus Padfone 2 once it becomes available?