LG to become 3rd biggest Android smartphone maker next quarter
As you are probably aware, Old Samsung is the world's biggest smartphone maker, and although currently LG seems to be losing money in the smartphone game, it appears that LG's fortunes in the mobile space are expected to make a bit of a turnaround, so much so that Samsung believes LG will become the third biggest Android smartphone maker next year.
Apparently the finance and investment arm of Samsung, Samsung Securities, according to an article over on Unwired View the analysts believe that LG will turn around their smartphone business in the first quarter of 2013, and this comeback in the mobile space will be headed by the upcoming LG Optimus G along with a couple of mystery devices codenamed GK and V2.
The LG Optimus G is expected to launch internationally sometime in November, and sales of the Android smartphone in South Korea are expected to outdo expectations.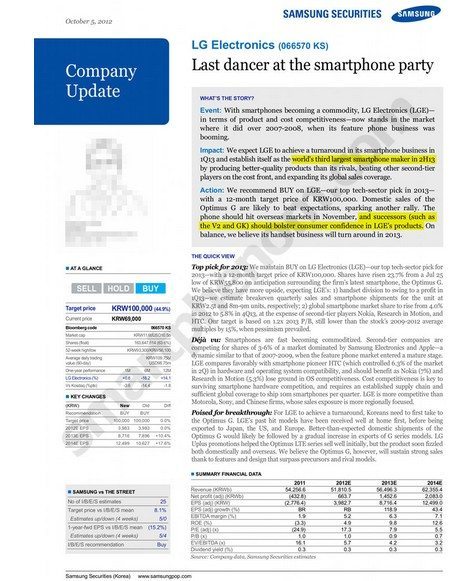 According to the analysts, LG's smartphone division will stop losing cash in the first quarter of 2013 and shift roughly 8 to 9 million devices, with the firm's global smartphone market share said to hit 5.8 percent by the end of next year, which is up from 4 percent in 2012.
It is expected that LG will up their game in the mobile space and deliver better quality devices that the company's rivals and should expand their smartphone global distribution that will eventually manage to beat the firm's main second tier rivals in device cost.
In order to gain that number three slot, LG does have to beat such rivals as HTC, Nokia and BlackBerry maker Research In Motion of course, but apparently LG should be able to beat HTC due to the company's better global coverage in terms of distribution, and their superior supply chain, whilst both RIM and Nokia are expected to lose ground in operating system competitiveness.

Original Source – smartphenom.com