BlackBerry 10 handset shown off on video in Mexico
I'm sure the whole mobile space is aware that RIM is working on their BlackBerry 10 smartphone that are expected to see release sometime next year, BlackBerry handsets that the company hopes will drag the firm back from the brink and regain their status in the smartphone arena. And today we are treated to a nice video look at a BlackBerry 10 smartphone in action.
The BlackBerry 10 L Series handset was shown off in a video that delivers a full tour of the handset by a BlackBerry rep in Mexico, and the footage comes our way courtesy of the guys over at Phone Arena, and you can of course check out that BlackBerry 10 handset tour by hitting the play button below.
Unfortunately though unless you can speak the lingo, the commentary in the video is of little use, but at least you do get to see the BlackBerry 10 L Series device being handled, and the rep giving a demo of the new 'best shot' feature in the camera, which shows that the user can snap a couple of images and then using those images can make a final shot with everyone in the picture smiling.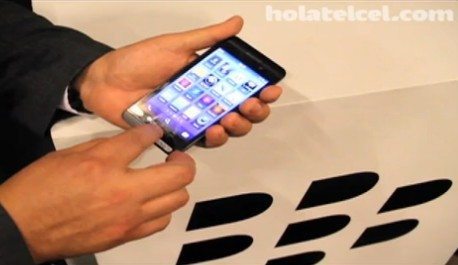 And that's about you lot, all you need do now is hit that play button to check out the footage, which does show that the BlackBerry 10 smartphone looks fairly nice, and hopefully for RIM will do well once they become available to the public, but has the Canadian company left it too late in the game?
We'd like to know if any of our readers are hanging on for when RIM does finally deliver their BlackBerry 10 smartphones, so feel free to let us know in the usual manner below…enjoy the video.