Motorola RAZR i now offered by Orange UK
If you are over here in the United Kingdom and have had your eyes on the Motorola RAZR i smartphone, but your preferred carrier happens to be Orange, then you just might like to learn that Orange UK is now offering the Android 4.0 packing RAZR i for sale as of right now as a free handset on certain monthly plans.
According to a report by Android Central, those that wish to get the Motorola RAZR i from Orange UK can get the smartphone for free on tariffs starting at 31 quid per month on Orange Panther for which you will receive 750MB of data, unlimited text and 400 minutes on a two year term.
A quick spec reminder for the device, The Motorola RAZR i offers a 4.3-inch Super AMOLED touch screen with Gorilla Glass, and powered by a 2GHz dual core Intel processor, and features an 8 megapixel rear facing camera with flash, 8GB internal storage along with microSD expansion up to 32GB, 1080p video capture, HFC technology, has a splash-guard coating to protect against water, a VGA front facing camera, and runs Android Ice Cream Sandwich.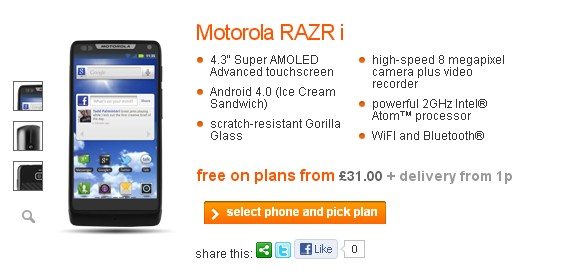 Orange UK also offers other plans with the Motorola RAZR i, including the handset free on Panther 36 for 36-quid a month for with you get 1GB data, 600 minutes, and unlimited text on a two-year term, or if you prefer, more minutes than data you can opt for Dolphin 36, which again gets the handset for free for 36-quid a month but gives you 900 minutes, unlimited texts and 240MB data on a two-year term.
If you require lots of minutes and more data, you can opt for the Panther 61 plan, which still gives you the Motorola RAZR i for free but will cost you £61 per month over two-years for which you get 3000 minutes, unlimited texts and 2GB of data.
Will any of our UK readers be hitting up Orange UK to grab the Motorola RAZR i?