Lumia 920 and 820 wireless accessories get UK price
If you are considering purchasing the Nokia Lumia 920 or Nokia Lumia 820 over here in the United Kingdom, you will require a wireless charging solution so you can charge the handset, and it appears that you can now order a wireless charging accessory for the aforementioned Lumia devices.
According to a report by Phone Arena there are now a few wireless accessories for both the Nokia Lumia 920 and Nokia Lumia 820 up for order over at UK etailer Clove, and some of the price tags for the accessories might be a bitter pill to swallow for some.
So what Lumia accessories do Clove have up for order? Well there is the Nokia Lumia 820 wireless charging shell, which commands a price tag of £19.99 including VAT, a wireless charging plate for both the Windows Phone 8 handsets costing £54.99 including VAT, or there is the wireless charging stand for both the Lumia handsets commanding a rather hefty price of £69.99 inclusive of VAT, or if you prefer you can order the wireless charging pillow by Fatboy, again for both the Nokia Lumia 920 and Lumia 820 and costing £79.99 including VAT.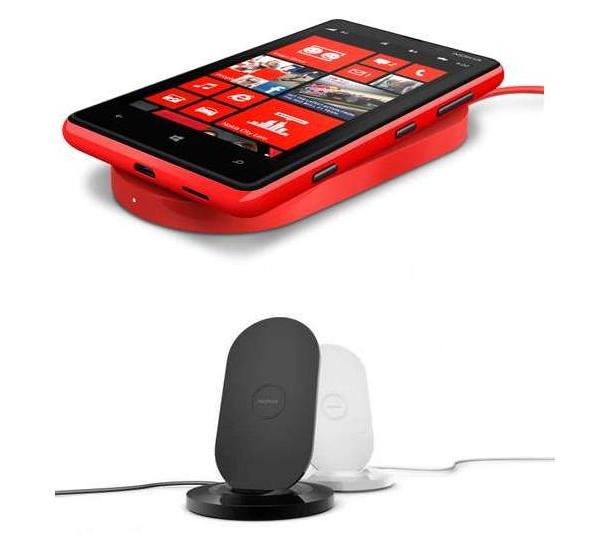 For those that would also like to own a portable wireless speaker, Clove also has the Nokia JBL Playup portable wireless speaker up for order, however the price might make up cringe a bit as the NFC connecting speaker commands a hefty price tag of £144.99 inclusive of VAT.
However, although you can slap in an order for the accessories, Clove currently doesn't have a confirmed release date, but do expect the wireless accessories to be available for the launch of the Nokia smartphones.
Have to say most of those wireless accessories do seem a bit steep on price, so what do our readers think, could these prices be a deal breaker for the Lumia 920 and Lumia 820?