HTC Droid Incredible 4G LTE on Verizon, software update approved
We always try to keep readers informed about software updates for their devices and today it's the turn of the HTC Droid Incredible 4G LTE on Verizon. The first update since its release has now been approved, bringing new features and improvements and it could be only days away from becoming available. You might want to start looking out for it then as both Verizon and HTC encourage users to take advantage of the upgrade.
The update is build 2.17.605.2 and it's a 154MB download and one of the most notable changes that will no doubt be highly welcomed, is global roaming for voice and data services in 220 countries. Another change is that the Droid Incredible 4G LTE will now have Isis Mobile Wallet support. The mobile wallet will hold virtual versions of items such as debit and credit cards so that users can Tap to Pay. The Droid Incredible 4G LTE will be one of the first devices to take advantage of the initial test markets for Isis Mobile Wallet, which are due to start very shortly.
There will also be improved customer care support with the use of Verizon Remote Diagnostics tools while other changes include enhanced 4G connectivity and also a smoother transition between WiFi and 4G LTE from better WiFi connectivity. Two more minor changes are that the Application List will now display Visual Voice Mail while Tango video calling will support audio. As Droid-Life points out we'd usually expect the update to become available just a few days after the support documents go live so hopefully there will only a short time to wait for the update to begin rolling out.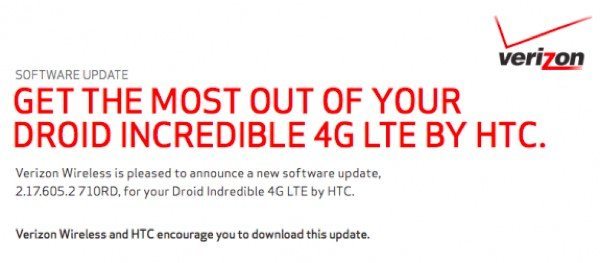 We'd like to hear from you if you have a Droid Incredible 4G LTE on Verizon. Will you be downloading this upgrade as soon as it becomes available? Let us know if the update goes smoothly and what you think of the improvements it brings to your device by sending us your comments.