iPhone 5 is Web traffic winner against Galaxy S3
We make no excuses for publishing many articles now about the Apple iPhone 5 and the Samsung Galaxy S3 (S III). These two smartphones have both been massive hits although the Galaxy S3 has been out for some months while the iPhone 5 only released in September. It may be significant then, that after that short space of time the iPhone 5 is a Web traffic winner against the Galaxy S3.
We've brought readers many comparisons now of the iPhone 5 and Galaxy S3 including a short and simple video look, a display face-off and also a battery life confrontation and these posts always provoke fierce loyalties from both Android and iOS fans, standing up for their respective devices. To be honest they are both extremely impressive handsets and maybe one shouldn't be classed a winner against the other as they each have a lot to offer and suit different needs.
Casting aside observations on specs and features though, it's still extremely interesting to note the figures on web traffic volume of both of these notable phones. When the iPhone 5 released it was an instant success but very soon after there were many reports of problems such as build quality, WiFi problems and more. The main contention though was the new Apple Maps app, which received a lot of negative feedback from experts and owners of the new device.
However if these latest figures on web traffic are accurate then this issue doesn't seem to have majorly affected sales. 9to5Mac brings news of a ChangeWave survey in which over 4,200 North American consumers were polled in September. The survey results pointed to the fact that the controversy surrounding the Maps app and negativity resulting from this did not significantly affect iPhone 5 sales as this was not a factor taken into account when purchasing.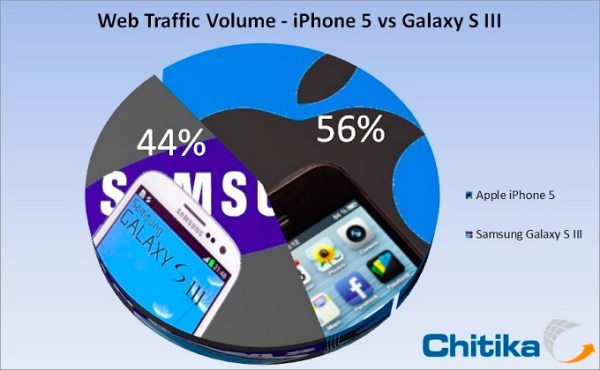 The iPhone 5 has gone on to achieve record sale numbers and this has led to more Web traffic volume than for the also extremely popular Galaxy S3. Report firm Chitika tells how the iPhone 5 accounted for 56% of Web traffic volume against the Galaxy S3 on 44%. This was after only 18 days of the iPhone 5 being on sale and is down to phenomenal sales and also 4G speeds encouraging data usage, not available on previous iPhones. 9to5Mac do point out though that Chitika was recently criticized for reporting incorrect info about search queries at Google, so we can only hope its Web data analytics have been improved.
It's promising news for Apple although we certainly wouldn't go as far as saying that the iPhone 5 was better than the Galaxy S3 simply because of Web traffic volume. We'd be interested to hear from readers about this. Are you surprised that the iPhone 5 accounts for so much of the Web traffic volume of these two phones, so soon after it released? Let us know with your comments.