GoPro combo, the app, Wi-Fi BacPac, Remote & HD Hero: Updated
We often bring readers news about new apps and gadgets and today we have something that will interest those interested in photography. The GoPro App is a clever innovation for adventurous photographers and it requires the use of a GoPro HD HERO2 camera and Wi-Fi BacPac and means that you will be able to remotely control your camera with the use of your smartphone or tablet. At the moment the app is only for iOS devices (iPhone, iPod touch and iPad) but the app will also be coming to the Android platform at Google Play soon.
The GoPro app from the App Store gives you total control over your camera settings, such as power or stopping or starting recording on your GoPro camera. You can also move between options and modes and it's aimed at those occasions when activating and controlling your camera is not possible, such as when skydiving or attached to a vehicle, as pointed out by Gizmag. It also features a live preview function for photo capture and video recording and users can also monitor factors such as how much capacity is left on your camera SD card and your current battery life. The app also offers users GoPro updates for Photo and Video of the Day posts.
If you want to check out the app then you will need to update the software for your HD HERO2 camera and Wi-Fi BacPac and Remote first and this will also offer you the benefits of professional video mode Protune. Find the software update link here. Future updates for the GoPro app will bring streaming playback from your camera to a SMART device along with direct social network sharing.
You can see a GoPro video below this story that explains more about how the app works or head to the GoPro official website here for further information. The GoPro iOS app from GoPro can be found at iTunes here. It's a free download and is compatible for the iPhone 3GS, iPhone 4, iPhone 4S and iPhone 5, iPod touch and iPad (all versions) running iOS 4.3 or later. If you have the original HD HERO camera then sorry but this is not compatible for that device.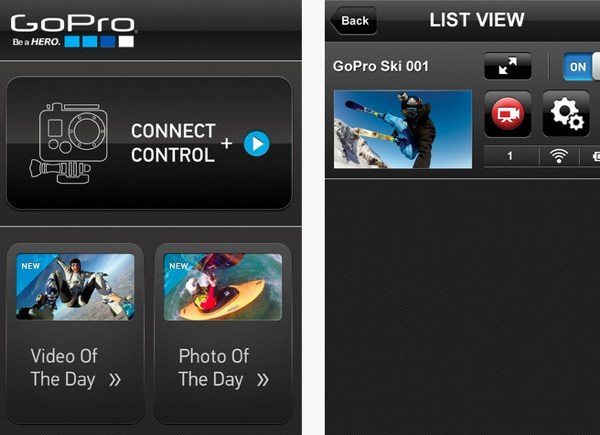 Another app that some might find useful is the GoPro Guide from Self Study apps at iTunes here. We must point out that this app is not endorsed, sponsored, affiliated with or otherwise authorized by GoPro. It offers instructions and also expert tips on aspects such as connectivity, camera modes and features. This one is also a free app and suits the iPhone, iPod touch and iPad running iOS 3.2 or later.
Meanwhile if you want to find out more about GoPro's HD HERO2 cameras then head to this product page where you'll find details of the motorsports edition, the surf edition and also the outdoor edition. As for the Wi-Fi BacPac + Wi-Fi Remote Combo Kit you can find further details of that here.
We'd like to hear from readers interested in this app. If you're an iOS device user are you happy to hear it's now available? Maybe you're an Android device user and waiting for the app to come to Google Play? Send your comments to let us know.
UPDATE: The GoPro app is now available for Android as we report here.