Asus Padfone 2 goes official with upgraded specs
As expected Asus has now dished the details and gone official with announcing the Asus Padfone 2 in Taiwan, and delivering a bigger and better smartphone/tablet combination than the original Asus Padfone with a sleeker design and many upgraded specifications, although the device does come running Android Ice Cream Sandwich.
The Asus Padfone 2 rumoured specs seem to be spot on, with the smartphone side of the combo packing a 4.7-inch 720p Super IPS+ touch screen along with a Qualcomm APQ8064 quad core processor, a 13 megapixel rear facing BSI Sony camera and a 1.2 megapixel front facing snapper, whist supporting 1080p at 30fps, and 720p at 60fps and also up to 100 continuous shots at full resolution reports Engadget.
Other specs on the smartphone include Corning Fit Glass as used on the Nexus 7, NFC, 2GB RAM, WCDMA 900/2100, and LTE 800/1800/2600 radios in the global version, a 2140mAh battery along with 50GB of Asus WebStorage for 2 years presumably due to the handset lacking microSD expansion, but on the up side Asus has said the smartphone will see an upgrade to Android Jelly Bean soon.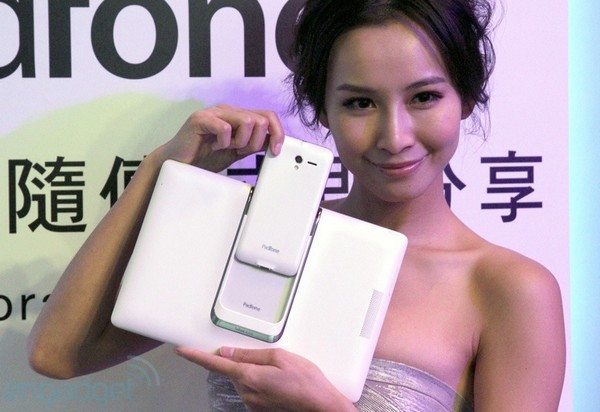 When it comes to the tablet side of things, the slate is thinner than the original Asus Padfone due to the lack of a docking bay cover, and is a 10.1-inch IPS display tablet in both 3G and WiFi versions, and now features a 13-pin connector on both devices for handling data and such, although this new version does come with a smaller 5000mAh battery rather than the original 6600mAh.
When it comes to availability, Taiwan will have the black Asus Padfone 2 sometime next week with a white model to follow, and the smartphone can be purchased separately from the tablet station in 16GB, 32GB and 64GB models costing from NT$17,990, US$620 up to NT$21,901, US$750, whilst the tablet will cost and extra NT$6,000, roughly US$210.
Word is according to Engadget's sister site in China that the Asus Padfone 2 will hit Hong Kong after Taiwan, but no word on an actual date, and likewise there's no word on where the smartphone/tablet combo is headed after that.