Lumia 920T destined for China Mobile in November
If you are over in China and have been hoping Nokia would deliver a Chinese version of their Nokia Lumia 920 flagship handset, it appears that your hopes have been awarded, because the Windows Phone 8 smartphone will be coming to Chinese shores sometime next month on China Mobile.
According to an article over on Unwired View, China Mobile confirmed they would be offering their version of the Nokia Lumia 920, dubbed the Nokia Lumia 920T via their official Sina Weibo account, which is basically the Chinese version of Twitter.
The word is the Nokia Lumia 920T will come sporting China Mobile's flavour of 3G, TD-SCDMA, along with also supporting TD-LTE (China Mobile's flavour of 4G LTE) to make the smartphone future proof.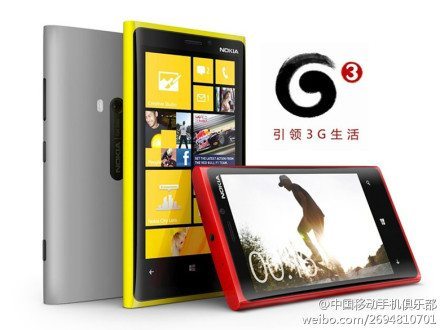 However according to a report over on WPDang, the Nokia Lumia 920T for China Mobile has not yet gained certification to be sold by the Chinese authorities, so there could well be some delay in actually getting the Lumia 920T out to customers, but once the mobile certification agency of China TENAA certifies the Nokia Lumia 920T the sooner it will become available.
Apparently if the Lumia 920T does indeed land next month in China, it will be one of the shortest periods passed between the release of a smartphone elsewhere other than China and the device becoming available in China, which probably means old Nokia is taking the world's largest smartphone market quite seriously.
Obviously there is no word on whether the Nokia 920T will come with the same specs and features at the Nokia Lumia 920 or whether it will be further customised for the Chinese market, and naturally no word on any pricing just yet.