Route 66 Panoramic car kit for top recent smartphones
I'm sure most know that using a smartphone whilst in control of a vehicle is dangerous although many people still take their lives in their own hands and do so, even when there are numerous hands free solutions available that enable the driver to use their smartphone safely when driving, and now Route 66 have released a new range of Panoramic car kits for smartphones.
The new Route 66 Panoramic car kit features super firm docking due to being tailored to fit your handset, whilst enabling portrait and landscape orientation use, is easy to fit and release, is windscreen or dashboard mountable, and comes with a dual car charger with a 2.1A output, which is twice the power of a regular charger.
The Route 66 Panoramic car kit has been designed to deliver a clear view of your handset's rear facing camera, along with maximum stability, assures perfect functioning of the Follow Me augmented reality navigation feature, whilst showing real roads ahead and adding a virtual car to guide you.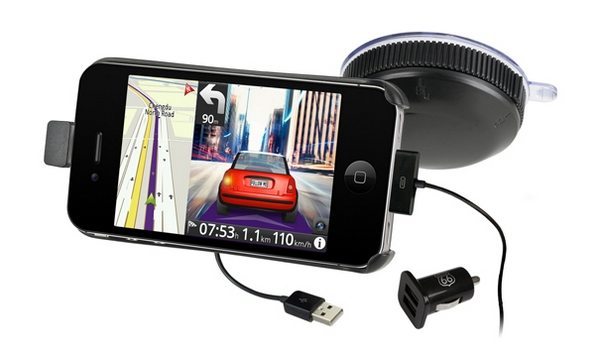 Adjusting the Panoramic car kit from landscape to portrait orientation and vice versa couldn't be simpler thanks to the device using a high quality ball joint, whilst mounting the device on your dash is accomplished via an adhesive disk.
The Panoramic car kit is compatible with many of today's leading smartphones including the iPhone 4S, 3GS, Samsung Galaxy S3, Galaxy S2, Galaxy S, the HTC One X and the Samsung Galaxy Note.
The COO of Route 66, Job van Dijk has said that the Panoramic car kit is tailor made for the shape of your smartphone, powers up your device in double quick time, and the company believes in delivering a complete navigation experience, which includes a car kit that enables the customer to make the most of the application.
The Route 66 Panoramic car kit comes with the car mount, holder, adhesive dashboard disk, dual USB car charger and cable, and a quick start guide, and you can purchase the Panoramic car kit at a cost of 19.99 Euros with free worldwide shipping by hitting up the Route 66 online store.