iPhone 5 screen problem, glitch caused by keyboard
It would appear that when it comes to Apple latest iOS smartphone all is not rosy in the iPhone 5 owning garden because of a screen problem the smartphone has had ever since the iPhone 5 hit the mobile space last month. It appears that the iPhone 5 screen has a bit of a flickering problem when using the keyboard.
According to a report over on Apple Insider, many iPhone 5 owners have reported the flickering glitch over on Apple Discussions, and apparently this flickering glitch appears when a user invokes the symbols and numbers keyboard when pressing the '?123' button when using the iOS handset in portrait mode.
Apparently the flickering problem only happens when the user is asked to enter Apple ID password, although the flickering doesn't show up every time when entering their Apple ID password using the numbers and symbols keyboard, and as such as the problem is likely to be a software error rather than an issue with the iPhone 5 display.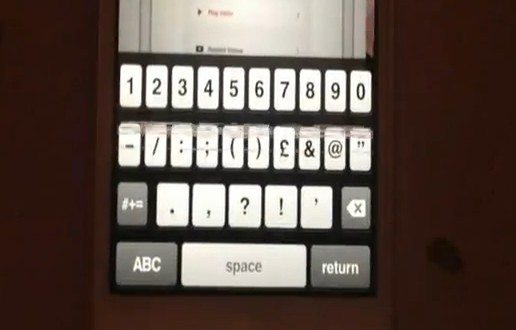 However some posters has said that the screen flickering glitch doesn't happen on older Apple handsets running iOS 6 such as the iPhone 4S, whilst Apple tech support, in response to one user called David825, suggested doing a hard reset of his iPhone 5, but apparently this had no effect on the problem.
But there's more, the same poster who contacted an Apple store in KOP, they told him the problem is the hardware and not software, and as such will not be fixed by a software update, and thus needs to be replaced, although another poster called mosembleker says the Genius Bar has stated this is a known issue but Apple will not give them any more info, and as such they are not swapping that handsets at this time.
We have embedded a couple of video showing the flicking glitch on the iPhone 5 for your viewing consideration below, so check them out, and feel free to let us know if you have experience the same problem on your iPhone 5 by dropping us a line to our comments area below.