New Sonic Jump iOS game, play different characters
Sega's Sonic the Hedgehog is arguably one of the most recognised gaming characters since it was first released back in 1991. The developer has continued to release new games with the famous blue character in, and now a new Sonic Jump iOS game allows users to play different characters.
The company has been busy releasing Sonic titles on the iOS platform, and has now released this iOS exclusive title to the App Store in the new vertically challenging adventure. Users can play as Sonic or one of his friends as they rush through familiar and all new Sonic worlds.
You will again be battling Dr. Eggman and the controls allow you to tilt and tap your device collecting all those rings, battling through fixed story levels and arcade infinite modes. Users can either take control of Sonic or Tails and Knuckles, with each character having their own unique powers.
The all time favourite Green Hill Zone makes an appearance alongside new worlds such as Mountain and Jungle Zones, and the game has 36 different levels in the Story mode to travel through as you try and stop the evil Dr. Eggman again.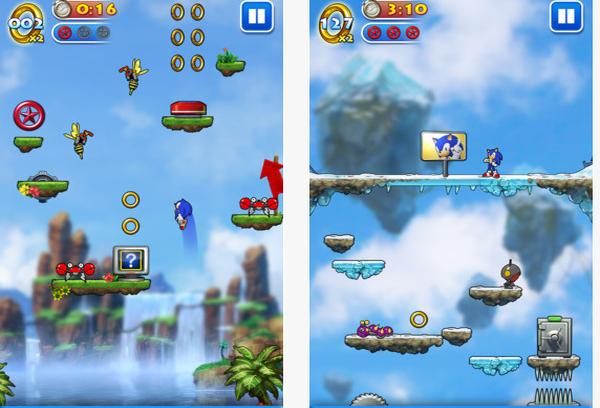 In Arcade mode you can play forever until you can play no more, and there are epic boss battles with your arch enemy Dr. Eggman, and you can even play against friends in the Arcade mode to achieve big scores on the leaderboards.
There is the option of purchasing rings via an in-app purchase or collect them as you progress that also unlocks characters, power ups, and much more. There will be more worlds and characters added free in future updates, and the game is available for owners of the iPhone, iPad, and iPod Touch.
To find out more or to download head over to the App Store and Sonic Jump is priced at £1.49/$1.99. Are you a Sonic fan?