The Apple Trivia: iPhone 5 vs 4S vs 4
With the recent release of its iPhone 5, quite a few questions have surfaced regarding Apple's efforts to sustain its reputation as one of the most innovative companies. The main current concern now is that is the new bad boy by Apple actually a better phone than its predecessors or has Apple started resorting to tactics of bluffing its customers by trimming a little bit of this and adding a little bit of that merely to the phone's physical features? Let's find out!
Look at that body!
The beauty that it is, the iPhone 4 won over the hearts of the audience with its squared edges compared to iPhone 3GS's boring blunt ones. Since iPhone 4S carried on with almost an identical outlook with only a slight difference in its weight, users tied their hopes to iPhone 5, anticipating it to be a radical piece of art with a marked difference in the phone's outlook. However, serving as a blow to all the expectations, the iPhone 5 only managed the following:
Being eighteen percent slimmer and twenty percent lighter. However, some have complained that it has gone a little too light for its own good, giving it a hollow and toy-like feel. A longer body with a 4 inch screen (compared to the earlier 3.6 inches) promising a better display as well as more ease in terms of grip while holding the phone. Also, the glass used for the display turns out to be more prone to scratches compared to iPhone 4S.
Replacing the classy all glass back with an aluminum body — a questionable decision since the aluminum scratches easily. A much more compact Lightening port which, as it happens, has annoyed regular Apple users as it renders their collection of older charging cords and docks obsolete. However, this problem has been addressed with the availability of an adapter to help connect the new port to existing equipment.
It's the inside that matters!
While iPhone 5 comes in a wide range of 16, 32 and 64GB of storage, iPhone 4S only supports 16GB with iPhone 4 following at a stingy 8GB. iPhone 5 has retained 4S's 8 megapixel camera and HD video recorder, which stole the show in contrast to iPhone 4's 5 megapixels. Also, iPhone 5 boasts a Facetime HD rather than iPhone 4 and 4S's regular front facing Facetime camera.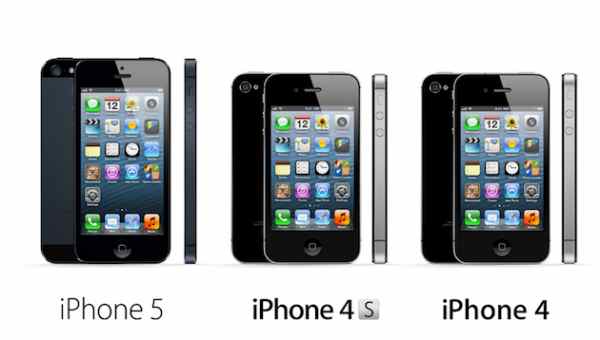 While iPhone 4S's new operating system and the Apple A5 processor doubled its speed and increased its graphics power by seven times compared to iPhone 4, iPhone 5's Apple A6 has twice the strength compared to 4S's Apple A5 which makes it the leanest meanest gadget on the planet. 4G LTE, which supports faster browsing and data speed, has made an appearance in the iPhone 5 as well.
Apple's voice-controlled brainchild Siri, which was the main feature that created buzz amongst users upon the release of iPhone 4S, has been retained (and apparently improved) in iPhone 5 with a more extensive knowledge base in terms of entertainment such as more movie options and information regarding sports scores. However, the typical glitches such as its inability to understand different accents remain unaddressed, as well as Siri's lack of respect for privacy persists which makes it look no better than an iPhone spyware or any other cell phone spy software for that matter.
Which way to go?
Standing at the iPhone crossroads, it becomes a rather difficult task to decide which one to get. However, it all boils down to what exactly your specific needs are and, more importantly, how much you can afford to pay for the luxury of having a couple of additional features. The choice, as always, is yours.
Author Bio: James Clark has been in the business of providing quality information on spy software for iPhone for a while now. He's an expert at all things spyware, but his main forte is iPhone spyware, which has captured the interest of many.