Dead Trigger Halloween for Android via Facebook Teaser
We are fast approaching that time of year again when we have to take the kids out trick or treating and dressing up in cool costumes making us look even scarier. The Halloween season also sees a number of special themed accessories and the like being made available, and we now have news of a Dead Trigger Halloween for Android teaser via Facebook.
As the Android Community are reporting it looks like the Dead Trigger is set to get some Halloween themed Zombie fun added in the coming days thanks to Madfinger. The company has recently teased the news but only putting up the image below onto Facebook.
Unfortunately the team behind the game are not giving much else away about the Halloween update to Dead Trigger, but it does seem that Zombies in the game will be decked out with jack-o-lanterns. The update should surely be released at anytime now as we are only a week away from October 31st, with some suggestions it could arrive by Friday.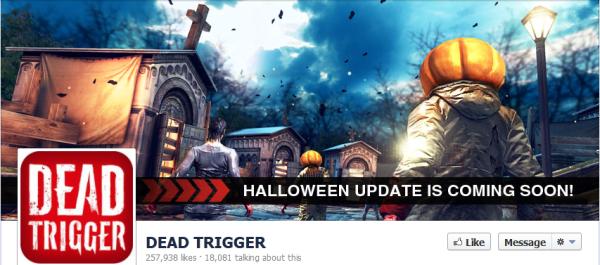 There is a good chance that players of the game will be treated to some new maps to explore and some nice new weapons as well. Fans of the game were treated to an Olympic themed update back in the summer, which saw a new map with Zombies dressed up in Olympic themed clothing, and according to the Android Authority this update was made available free, so hopefully the Halloween version will be the same.
Hopefully we will have some more information regarding the latest update soon with more details on what the Halloween update will bring to the table. Are you a fan of Dead Trigger?