Samsung Galaxy Note 2 for T-Mobile USA available at last: Update
If you are one of the Android faithful over in the good old US of A , your preferred carrier is T-Mobile USA, and have been patiently waiting to get your hands on the second generation Galaxy Note, you will probably know, as we previously reported, the T-Mobile Samsung Galaxy Note 2 was listed on the T-Mobile website as coming soon, and it appears that 'coming soon' is right now.
For those that have been eagerly awaiting the arrival of the Samsung Galaxy Note 2 on T-Mobile USA, you will be pleased to hear that T-Mobile has now placed the Android Jelly Bean smartphone/tablet combo up for purchase, with the Galaxy Note 2 in marble white commanding a price tag of $369.99.
That 370-buck price tag does require the customer to sign up for the usual two-year agreement with a qualifying plan of course, but the purchase does get you an instant 230-buck rebate along with a 50-buck mail in rebate off the retail price of $649.99.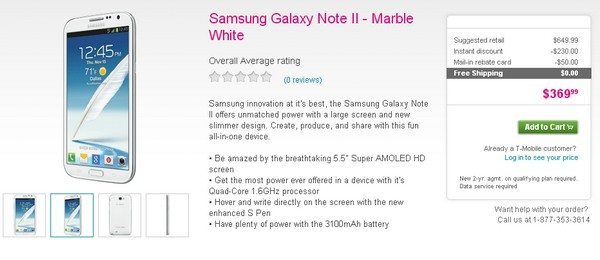 I'm pretty sure if you have had your eyes on the Samsung Galaxy Note 2 you will already know what the Android device offers but in case it has slipped your mind the Galaxy Note 2 sports a 5.5-inch HD Super AMOLED touch screen, an 8 megapixel auto-focus rear facing camera with LED flash, 1080p video, a 1.9 megapixel front facing snapper, 1.6GHz quad core processor 2GB RAM, 16GB internal memory, microSD expansion up to 48GB and a 3100mAh battery.
The T-Mobile Samsung Galaxy Note 2 measures 5.94 x 3.16 x 0.37 inches with a weight of 3.6 ounces, and does of course include the S Pen functionality that is good for some serious digital painting and the likes.
So there you have it, will any of our American readers be hitting up T-Mobile USA to grab the Samsung Galaxy Note 2?
Update: It appears that the guys over at Android Spin have discovered if you wish to get the Samsung Galaxy Note 2 on T-mobile a little cheaper, you can get the Galaxy Note 2 on T-Mobile for $279.99 from Wirefly in both marble white and titanium grey, as long as you are a new customer or qualify for an upgrade.