Don't Miss Out On These BlackBerry Apps
Research In Motion's (RIM) BlackBerry has incurred huge losses since its sever went down in October 2011, bringing the large number of users — mostly professionals and business personnel — to a complete halt. Since then, it has been reported that BlackBerry's share of the smartphone market has hit devastatingly — statistics given by IDC tells us it has dropped from 13.6% in 2011 to 6.4% in 2012, giving space to its competitors, Android and Apple to grow and prosper.
However, with all the technical problems surrounding BlackBerry, its loyal users still stick to the device because of its secured platform, which is highly resistant to various malware including BlackBerry spy software and BlackBerry monitoring app. The closed nature of its platform ensures users security while downloading apps, which are specially designed for BlackBerry and available at BlackBerry App World. Let's look at some famous BlackBerry apps meant for business and entertainment.
1. Foursquare
With this app BlackBerry users will not miss out on the socializing. Download Foursquare app in your BlackBerry handset to know the happening places around you. The coolest offers you could get to entertain your friends dine out with your loved one or have a fun family time — Foursquare will help you to locate the places of interest for you. Take pictures while you travel and share them with your friends, or get a review on your recipe or just connecting with your friends — Foursquare will help you to meet your friends on the go. You can even post your current location and check-ins on Facebook and Twitter.
An updated version of Foursquare is available for BlackBerry users with certain cool new features. The major change brought in the current update is the brand new tweaked user interface, which gives the user an exciting experience and more enjoyable time. This is a free app, which enables users to quickly see the activities of its friends through an improved tab. The updated version has an improved and user-friendly screen, which helps you to discover great places of your interest. Now, with the updated version you can tweak from anywhere, anytime.
2. UPS Mobile
No doubt BlackBerry is made for professionals on the go. For personnel in shipping business, UPS Mobile is the app you should have in your BlackBerry handset. The app itself and mobile website (m.ups.com) are specifically designed for shipping professionals that let you easily manage your shipments anywhere, anytime. This is a multifunctional app — available for free — which allows the user to track their shipment, create labels for their shipping containers, find location of your app server and last but not the least, estimate costs the user incurred for the shipment and the timings of delivery.
UPS Mobile app does not require the user to log in to perform some tasks, which include track their package and freight shipments, access the app website to check their shipment's location and estimate cost and delivery time of their shipments. However, the user needs to log in with My UPS ID to view the status of the shipment, create shipping labels and access your app's address. Unfortunately, this app is not compatible on all BlackBerry handsets; users of BlackBerry Storm, Bold, Curve 8900 and Tour can avail the services of this app.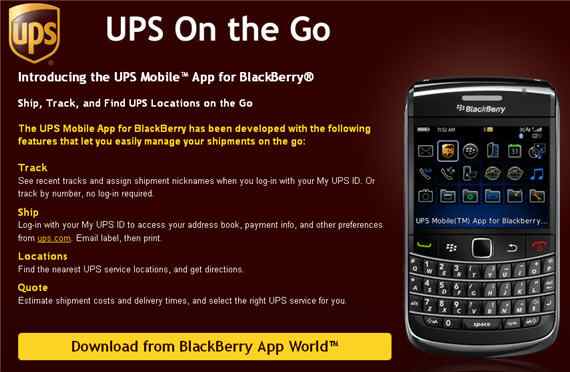 3. Navita Translator app
If you have a passion to travel round the world and experience different cultures, then language should not be the obstacle in your way. Install Navita Translator app in your BlackBerry handset and enjoy your holiday in a foreign land, without facing any hassles of language in a restaurant, museum, public park or just walking under the moonlight. With the help of this app you can translate words from any language — be it a menu of a restaurant in Japan or a local clothes shop in India — the app facilitates you by translating in more than 60 languages. Navita Translator has been awarded the prize for Most Innovative App, used by thousands of people for their BBM social platform. Other than translation, this app also:
– Allows the user to post their translations on online social network sites, Twitter and Facebook. This way you can keep your friends and family updated of your adventures, while giving them a view of the foreign lands.
– Supports English, Portuguese, Spanish and Chinese interfaces.
– Compatible with all models and handsets of BlackBerry and Android.
Load your BlackBerry phone with this free app before leaving for a new destination. Navita Translator will not only translate words for you, but also speaks words and phrases from e-mails, web browsers or SMS text message in your language — helping you with further booking details.
4. Tvider
Tvider is a reply to your entire social network needs. Once you install this free app in your BlackBerry mobile, you can easily upload pictures, images, audio and video posts on your Twitter, Facebook, My Space and other social network accounts. The success of Tvider application can be measured from the fact that the developers, Umundo Inc. had to manufacture this app for iPhone, Android and Windows users after its demand increased among the smartphone users. Currently, users of BlackBerry Tour, Bold 9000, Bold 9700, and Curve 83xx, Curve 8520, Curve 8900, Pearl and Pearl Flip can use this install this app on their handsets.
On being installed, this is how Tvider app really works:
– The first step is to open your BlackBerry phone's in-built image and video camera in order to capture pictures and video. The app's InstaPix and InstaVid assist you in this process.
– You don't have to sign in to your Twitter or Facebook account separately. Once your picture is captured or video made and approved by you; it is automatically added to your tweet, along with space left over to add any text.
– The Timeline feature for this app is quite different from the regular one. Instead of seeing all tweets in a timeline, you only see tweets with media.
However, there are certain drawbacks to this feel good and convenient app. Although this app completely focuses on media and enables you to deliver best social media experience, but this issue could impact the image you captured to upload on Twitter. If you're looking for a Twitter application to accompany your main Twitter client, or simply want to focus on your media tweets, the Tvider is right up your alley. But it would be more convenient if the user were given the whole package instead of switching back and forth. But the complete picture is more user-friendly and you can send media tweets much more quickly with Tvider than with most other clients.
5. Urbanspoon
If dining out is your passion or an impending need then this app is your friend. Install Urban spoon in your BlackBerry handset to keep up-to-date about old and new restaurants or any interesting place to dine out. Depending on your choice of food, the app will locate the best possible option for you. The app is based on a famous food website by the same name that has given lots of unique recipes and food joints to its users. You can also check out restaurant reviews from food critics, bloggers and daily users.
Keeping in view the increasing popularity of this website, an app was released in 2009 for BlackBerry users. The app aimed at helping people who have difficulty in deciding where and what to eat.
The app works in a simple fashion — first enter the name or postcode of the area where you want to search for restaurants. In case you are not familiar with the place, allow Urban spoon to locate it for you by using your GPS location. After locating the area, the app presents you with a slot machine kind of interface with three tumblers. The first option is the neighborhood or area, second will the type of cuisine and the third one is cost — for the cost efficient ones. In order to carry out your search, you would have to choose either of these options. For example, if you are interested in Japanese restaurants, then you would highlight that option and then click the little lock below the option. Then, an icon appears for click or shares your device — depending on the model of the BlackBerry handset that you are using. Upon clicking on the name of the restaurant, you will be shown the information like, address, contact details, maps and you can even open up the mobile version of the website which will take you directly to the reviews and information for that restaurant.
Although this is an easy-to-use fun app, but in times of need, this can be very useful — in a dorm or a less populated area, where you might fee hungry after midnight. Best of all, it's free and there is a version for all devices running OS 4.2.1 or higher, and was recently updated to include devices on BB6. Urban spoon is supported in Canada and the US as well as Australia and the UK.
Author Bio: Beth Janick is a tech graduate with a unique flair for words. She's transformed her passion into her pieces on latest on cell phone technology. Her work on BlackBerry handsets and apps has bought her a flock of followers. Her knowledge has been further polished through her editorial work on BlackBerry Spy Software