Honeywell Dolphin 70e Black smartphone with Android or Windows
If you happen to be in the enterprise market for a new rugged hybrid smartphone running Android or Windows, then you might like to know that the new Dolphin 70e Black smartphone from Honeywell should begin shipping as of sometime in February next year, and is Honeywell's first rugged Enterprise Hybrid Device.
According to Honeywell, the Dolphin 70e Black smartphone has been designed to meet the needs of the mobile workforce, which has been predicted to hit 1.3 billion by the year 2015, and input from Honeywell customers have guided the development of the Dolphin 70e Black, which has led to many feature to improve enterprise durability, security and productivity.
So just what does the Honeywell Dolphin 70e Black smartphone have to offer? Well the handset sports a 4.3-inch touch screen, is the thinnest product the firm has ever delivered and under 19mm thick and weighing 240 grams, is IPS rated for water submersion, multiple drops, and completely dust proof, Gorilla Glass, offers a replaceable battery said to deliver up to 12 hours of life, and will come with both Android and Windows software at launch.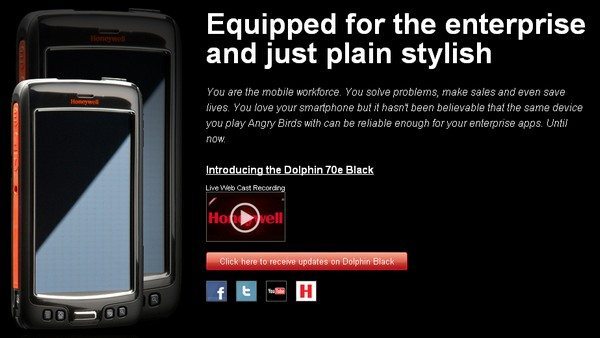 The Honeywell Dolphin 70e Black is enterprise ready with security options, enhanced service plans, Remote Mastermind, unified communication, ISV support, Dolphin counters, HTML5, and virtual keypad creator.
The president of Honeywell Scanning & Mobility, John Waldron says that the Dolphin 70e Black reflects two device trends in the industrial world both consumerisation and consolidation, and you can check out just what Waldron has to say about the Dolphin 70e Black in the video we have embedded for your viewing consideration below.
Other than now knowing the Dolphin 70e Black will come to market in February 2013, unfortunately the company fell short of revealing a price tag on the handset, so we have no idea how much it will cost, nor did they say which version of Android or Windows OS the device will be carrying.