iPad Mini vs Kindle Fire HD, independent decisions
The Apple iPad mini was finally announced on Tuesday and this 7.9-inch smaller version of the iPad is set to fly off the shelves when it releases on November 2. One of its main rivals will be the new Amazon Kindle Fire HD that has just released so we thought we'd take a look at the iPad mini vs. Kindle Fire HD in a bid to enlighten readers enough to make independent decisions.
One big difference that might be enough for you to decide your choice is the price of these two tablets. We'll get to that later but firstly we'll point out that the iPad mini comes in three storage options of 16, 32 or 64GB and is a 7.9-inch tablet. The Wi-Fi version will release on November 2 while there will also be a Wi-Fi + Cellular (including LTE) version, set to release a couple of weeks later. The Kindle Fire HD on the other hand is available in both a 7-inch and 8.9-inch model. The 7-inch Kindle Fire HD is a Wi-Fi version while the 8.9-inch model is offered either as a Wi-Fi version or LTE edition. Let's delve further into the specs and features to see what the iPad mini and Kindle Fire HD have to offer.
Processor
The iPad mini comes with Apple's A5 dual-core processor, which is a step down from the A6 recently used for the iPhone 5 or the A6X that is included in the upcoming iPad 4. The Kindle Fire HD on the other hand has a 1.2GHz OMAP4460 dual-core processor for the 7-inch model or a 1.5GHz dual-core processor in the 8.9-inch model. It will be interesting to see benchmarks of the two to see how they really compare in performance.
Display
The iPad mini has a 7.9-inch display with resolution of 1024 x 768 and this is one of our only disappointments with the mini as it seems a shame not to feature Apple's renowned Retina display. The 7-inch Kindle Fire HD has resolution of 1280 x 800 so already beats the iPad mini in this respect, while the 8.9-inch Kindle Fire HD has resolution of 1920 x 1200, much higher still.
RAM and Storage
The iPad mini's RAM is unconfirmed but as Gizmag points out, as it has many of the specs of the iPad 2, it's likely to be 512MB. As we said previously it comes in 16, 32 or 64GB versions (non-expandable). Meanwhile the Kindle Fire HD has 1GB of RAM and either 16 or 32GB of internal storage, also non-expandable.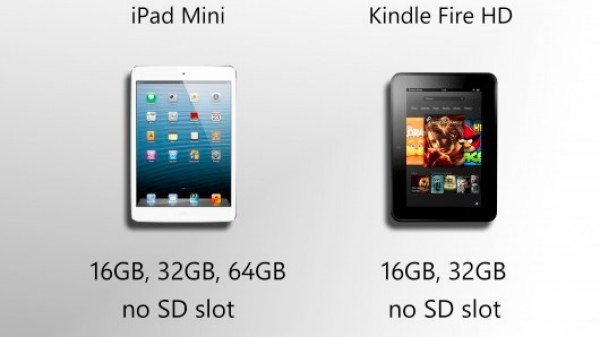 Cameras
While the iPad mini has a 5-megapixel rear camera and a 1.2-megapixel front-facing-shooter the Kindle Fire HD touts a 1.3-megapixel front-facing camera but has no rear camera.
Operating systems
The iPad mini benefits from the new Apple mobile operating system iOS 6. The Kindle Fire has 4.0 ICS but is heavily customized.
Dimensions and Weight
The iPad mini measures 200mm x 134.7mm x 7.2mm and weighs only 308g. The 7-inch Kindle Fire HD measures 193mm x 137.2mm x 10.2mm and weighs 394g while the 8.9-inch Kindle Fire HD measures 240mm x 164mm x 8.8mm and weighs 567g (575g for the LTE version). Obviously, if you want something light and slim then the iPad mini is preferable for this factor.
Design
This is obviously down to personal preference but we'd say the iPad mini comes out top here with a premium look. The iPad mini has a sleek aluminum unibody design in either black and slate or white and silver color options, as on the iPhone 5. However the Kindle Fire HD is less impressive in looks, is only available in black and feels cheaper with backing made of plastic and rubber.
Pricing
Now this is where it gets really interesting as the cheapest iPad mini costs $130 more than the cheapest Kindle Fire HD. The 7.9-inch 16GB WiFi-only iPad mini price is $329 while the 7-inch 16GB Kindle Fire HD WiFi-only tablet is $199. However if you want to get rid of annoying ads on the Kindle Fire that costs $15 extra so brings the price difference down to $115. Gotta Be Mobile has a complete comparison of pricing for each Kindle Fire HD model and each iPad mini version so check that out at the link.
Obviously the Kindle Fire HD is very reasonably priced but only you can know if it's worth paying the extra for the iPad mini if this is the tablet you prefer. The better display of the Kindle Fire HD may be enough to make you lean towards it but alternatively the look of the iPad mini and simpler operating system may make this one your choice.
We're really interested to hear from readers about the iPad mini vs. the Kindle Fire HD. If you were to make a choice right now, which would you opt for? If the price difference is a deciding factor and you think the iPad mini is simply too much more expensive, what price do you think would have been reasonable? Let us have your comments on this.