Microsoft Surface tablet movement ads, let's make a noise
This is an important time for Microsoft with Windows 8 officially launching yesterday and today seeing the release of the Microsoft Surface tablet. Microsoft is investing a huge amount into the success of its Surface tablet in a bid to break the stranglehold of Apple's iOS iPad and also Android tablets. That investment also stretches to advertising and Microsoft has just launched a new Movement commercial to promote the Surface.
It is perhaps telling that the Microsoft Surface hits the shelves on the same day that the iPad mini becomes available to pre-order. Maybe this shows that Apple acknowledges that the Surface could be a real rival. It's certainly true that many people are taking an interest in the refreshing new Surface, especially as it offers an alternative platform to iOS or Android. Microsoft obviously recognizes the importance of getting the Surface message to the public though and the 'Surface is Here' ad was launched on the company's YouTube channel yesterday. You can see the commercial on a video that we've embedded below our story, along with a previous Surface Movement ad.
Whereas the previous ad was felt by some to be rather juvenile the new ad cannot be accused of that. However we're not sure exactly what the message of the ad is as it's all rather mysterious but at the same time it certainly makes an impact. It's more reminiscent of the original enigmatic promo video that Microsoft created for the Surface, which you can see more on here.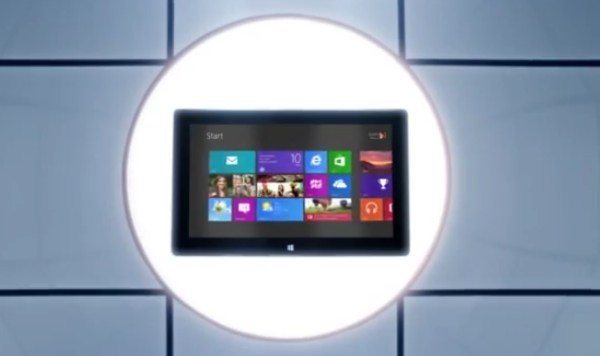 iDownload Blog reports on estimates that Microsoft is spending between $1 and $2 billion on advertising for the Surface tablet and the new Windows 8 operating system so nobody can accuse the company of being half-hearted in its efforts. It's obvious then that Microsoft means business and is going all out to make a mark with its tablet venture and an iDownload Blog survey showed that almost half of respondents think that Apple should pay attention to the Surface as competition, an encouraging sign for Microsoft.
You can read much more about the tablet in our previous Surface articles at this link. We're really interested to see the impact that the Surface makes on the tablet market and want to know what you feel about this. Is the Microsoft Surface tablet a device that appeals to you? Do you think the Surface will make any inroads into the iOS and Android competition? Let us know with your comments.