Samsung Galaxy Rugby Pro via AT&T and Best Buy
If you are over in the USA and in the market for a rugged smartphone from the Samsung camp that runs on the AT&T network, then you might like to consider the updated version of the Rugby Smart, the Samsung Galaxy Rugby Pro, which recently was put up for purchase at AT&T and Best Buy.
We have previously covered the Samsung Galaxy Rugby Pro, an Android Ice Cream Sandwich smartphone that is dust proof, water resistant for up to thirty minutes in up to three feet of water, and shock resistant, but at that time we didn't know how much the Galaxy Rugby Pro would set you back, but we now do.
The Galaxy Rugby Pro if purchased direct from AT&T will set you back $99.99 when signing up for the usual two-year agreement, or if you wish to forgo that commitment the Android handset will cost you $449.99, and Best Buy is offering the device at the same price also if you prefer to get it from them, although they call the handset the Samsung Galaxy Rugby Pro 4G.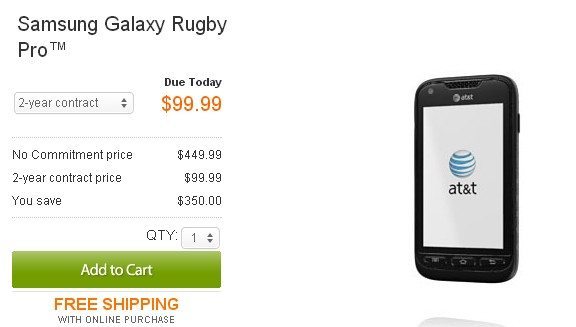 Spec wise the smartphone offers a 4-inch WVGA Super AMOLED touch screen along with a 1.5GHz processor, although only 768MB of RAM and 8GB internal storage, but there is microSD expansion, 4G LTE connectivity, along with a 5 megapixel rear facing snapper and a 1.3 megapixel front facing camera, 1850mAh battery, and ICS OS, but no word on whether the Rugby Pro will ever see an update to Android Jelly Bean.
So there you have it, if you would like to own the Samsung Galaxy Rugby Pro on AT&T you can purchase the device by hitting up AT&T online, or if you prefer you can head on over to Best Buy.
Will any of our American Android faithful be purchasing the Samsung Galaxy Rugby Pro in the near future?