Samsung Galaxy S3 S Beam shares dirty video
I'm sure that most are aware that the very popular Samsung Galaxy S3 is a smartphone that comes with S Beam technology, a tech that enables two Galaxy S3 owners to simply touch their handsets together to share content, and NFC has its part in this sharing as well, and old Sammy wants users to know about the breath of possibilities S Beam brings.
As such Samsung has put out a new commercial touting the possibilities of the S Beam tech on the Samsung Galaxy S3, albeit the advert being a little on the suggestive side intimating that couples could share a dirty videos when parting, although there is nothing untoward in the footage, it is fairly obvious that the video contains a little naughty viewing suggestion.
The Samsung Galaxy S3 Work Trip video comes our way courtesy of Cnet, and shows a husband leaving his family for a trip, and his daughters have a video she wants daddy to watch when on the plane, the wife bumps her Galaxy S3 with her husbands to share the daughters video.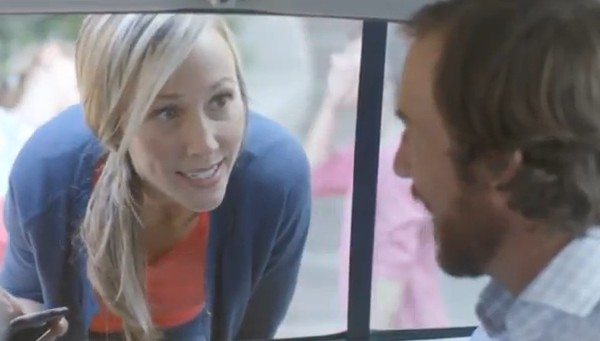 After which the wife says she also has a video for her husband, and taps her handset against his again, but this time says he probably shouldn't watch that one on the plane.
Obviously we don't get to see just what footage the husband has received from his wife, but the suggestive look on the wife's face seems to say it all, and obviously starts the imagination rolling that the wife has shared a dirty video with her departing hubby.
Of course its all done in fun, not actually saying couples should share their raunchy footage via S Beam, but the suggestions is definitely there, or could it just be our minds working overtime?
Anyway, head on down and mash that play button to check out the Samsung Galaxy S3 S Beam word trip video to see for yourself, and see what you think…enjoy.