Super Speed for Android solves your memory cache problems
If you are an android user sometimes you would get irritated with the speed performance of your android device and this happens as it reaches its limit on memory space, to get rid of this problem make use of this Super speed android app. Below you will see a very quick simple but to the point review about this app, at the bottom you will also see what rating we have given it.
This super speed app comes under the tools category, which has the size of 1.5 MB, and it applies to smartphones and tablets with android OS installed, please remember that this app requires android 2.1 and above version.
The most notable feature in the app is it optimizes android smartphone performance and it increases android speed and functioning, overall this super speed app works as a process manager for memory cache
You will be noticing a pop up message for confirmation whereas by clicking once the activation button, as this app works internally you wouldn't find any working process on your device, though you can find the app as a widget in your android device. This widget includes a handy process manager, which will simultaneously manage unwanted phone memory.
The over flow of unnecessary memory cache results in huge amount of internal memory, leaving you with less apps to download for the future and to overcome with these kind of problems this super speed app makes your money worthy.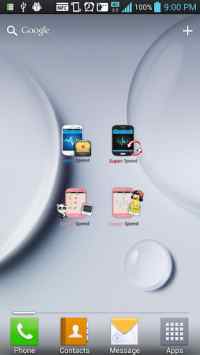 Things to improve:
There should be a detailed tutorial regarding the app process as it works internally in the smartphone and also we are not sure how long the speed can sustain, as we don't find any measurement for testing the speed of the app
Solve all your memory cache with super speed android app, which has been improved for the better performance and compatibility for your android smart phone ever.
Rating 4/5