Amazon iPad mini smackdown with Kindle Fire HD
As you know the latest little device to come out of the Apple camp is of course the Apple iPad mini, a device Apple wants to grab a slice of the smaller tablet space with, and no doubt many of the iOS faithful will purchase the smaller iPad. However it appears that Amazon isn't going to let Apple simply rush in and snatch that slice without pointing out a few differences between the iPad mini and one of its rivals the Amazon Kindle Fire HD.
As such according to an article over on Technobuffalo, Amazon has fired a bit of a shot at the Apple iPad mini by posting to the front page of Amazon.com an image, shown below, that shows a comparison between the Amazon Kindle Fire HD and the iPad mini as quoted by Gizmodo.
As you can see by the image it would appear that if you are in the market for a small tablet, the Amazon Kindle Fire HD is the one to opt for, especially when you consider the attach price tag for both devices, 199-bucks for the Kindle Fire HD as opposed to 329-bucks for the iPad mini.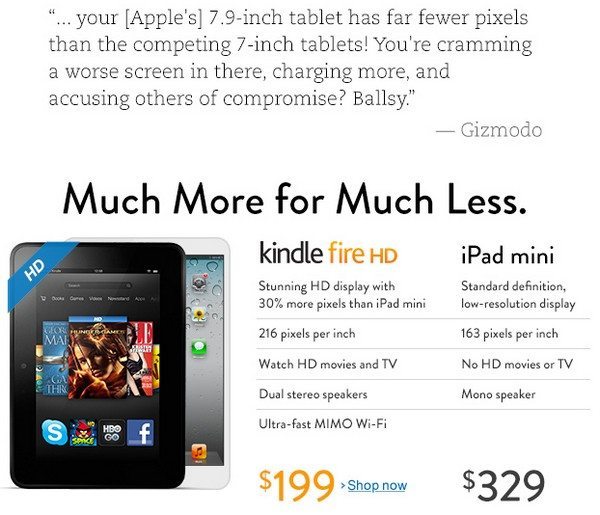 Of course one can't do a real comparison between the two smaller tablets until the Apple iPad mini actually come out to play, and once it does no doubt many will be comparing the iOS slate against the numerous rival 7-inch tablets already out there.
But basing things purely on this short and precise comparison, wouldn't you agree that the Kindle Fire HD is the better option of the two especially if you take into consideration today's economic climate and how cash strapped some people are?
In the run up to Christmas no doubt all tablet makers will be touting their differing size slates hoping to grab customer's cash, and with new tablets also arriving, perhaps Apple has shot themselves in the foot when it comes to pricing the iPad mini, although undoubtedly the device will still do well for the company.
Still, what do our readers think, is the Amazon Kindle Fire HD a better deal than the Apple iPad mini?