iPad 3 vs Microsoft Surface, booting & size comparison
As you are no doubt aware, the Microsoft Surface tablet recently launched to the mobile space, and just like most new tablets the device is obviously going to be compared to rival slates in the market and especially Apple's offering. Thus we have a couple of comparison videos for your viewing consideration below, pitting the Microsoft Surface against the Apple iPad 3.
Both comparison videos come our way courtesy of iDownload Blog and pit the new Microsoft Surface against the third generation iOS slate, with the first video showing a boot speed test, whilst the second video compares the dimensions and weight of the Apple iPad 3 and Microsoft Surface.
The guys do stipulate though that neither of the comparisons are scientific tests, but basically to give you an idea of difference between the two. The boot test footage lasts almost a minute and a half, and shows which slate can boot up the quickest, but as we have no wish to spoil the outcome, we wont actually say which device boots quicker, but rather let you find out for yourself by watching the video.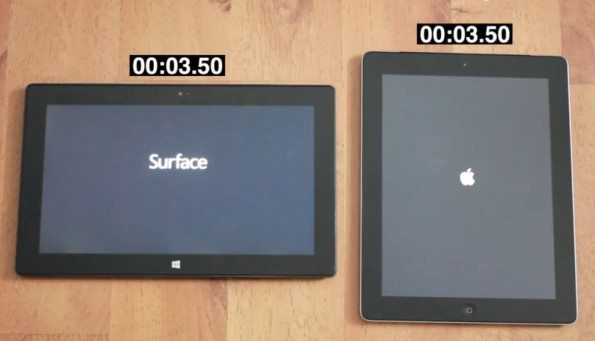 The iPad versus Surface dimensions and weight comparison lasts almost three and a half minutes, and shows that the bezel is roughly the same on each tablet, whilst the Microsoft Surface is obviously the longer of the two, although the iPad 3 is wider, and when it comes to the weight, the iPad 3 weighs in at 1.44 pounds whilst the Surface weighs 1.5 pounds so the difference is negligible.
The Microsoft Surface is easier to hold in one hand though due to being the slimmer device, and when it comes to thickness the Surface comes out at 9.83mm whilst the iPad 3 comes out at 9.56mm.
Anyway, as I have no wish to spoil your viewing pleasure of both videos, I'll leave it right there so you can head on down and mash those play buttons to check out the footage for yourself…enjoy.