Samsung Nexus 10 manual, specs and price points
If you have had your eyes on the upcoming new 10-inch slate in the Nexus line coming out of the Samsung camp in the form of the Samsung Nexus 10, we've already been treated to an image of the Android Jelly Bean slate, and now it appears that the manual for the Samsung Nexus 10 has leaked to the net waves.
According to an article over on Gadget Insiders, Korean website Seeko has leaked a couple of pictures of the Samsung Nexus 10 manual, which include schematics of the Android Jelly Bean tablet that apparently suggest a similar design to the average Sammy slate but with a touch of Nexus 7 design added.
The Samsung Nexus 10 manual does show that the Android tablet will come with all the usual stuff including microUSB port, microHDMI port, 3.5mm jack, and a charging port at the bottom of the device, along with an LED below the display, and there is a rear facing camera with flash and a front facing camera,but doesn't reveal much else.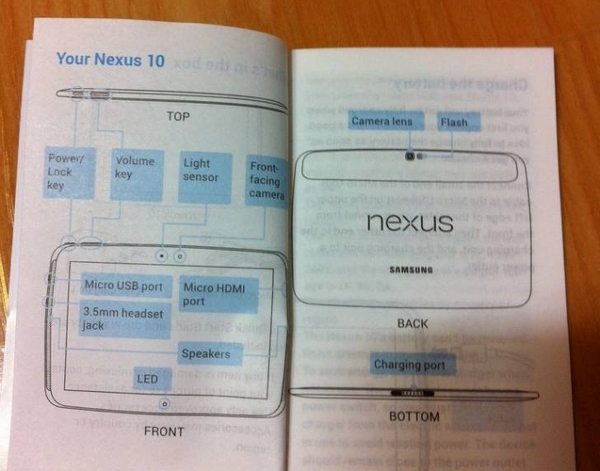 As for specs of the Samsung Nexus 10, we have previously reported that the device is expected to sport a 10.1-inch touch screen with 2560 x 1600 resolution, along with a 1.7GHz Exynos 5250 dual core processor and Mali-T604 GPU, 2GB of RAM, possibly 16GB internal memory, but no microSD expansion, whilst that rear facing camera is said to be 5 megapixel, and the slate will have Bluetooth 4 and NFC functionality.
As for how much the Samsung Nexus 10 will command price wise, well there has been a bit of discussion on that subject over at Android Central forums, where some seem to think the Nexus 10 will have a price tag of around 350-bucks, whilst others say it will probably be nearer the 500-buck mark, and others reckon around the 400-buck price, and of course all those prices are just speculation at this point.
Are you waiting for the Samsung Nexus 10 to arrive and if so how much do you think the Jelly Bean slate will command?