Impressive Google Nexus 10 specs leaked & Android 4.2
Ahead of next week's Google event in New York we are seeing a number of leaks that are covering various devices and software, with talk of a new Nexus program along with another operating system upgrade, and now some impressive Google Nexus 10 specs have been leaked with Android 4.2 in tow.
The guys over at BriefMobile have got hold of some images of the upcoming Google Nexus 10 device made by Samsung, and it features Android 4.2 Jelly Bean, not Key Lime Pie as some people had thought Android 4.2 would be called.
It is thought the device would be unveiled on Monday at the Google event, which could see the Nexus 10 ruling the roost in the tablet market. Under the hood is a Samsung Exynos 5250 processor that has a Cortex-A15 architecture and Mali-T604 GPU, which is a 1.7GHz dual core chip that performs better than both the Apple A6 and Qualcomm Snapdragon S4 Pro.
The Nexus 10 also has 2GB of RAM, while the source that leaked the tablet had hold of a 16GB model, and it is not known what other if any storage options will be available. There is no microSD card option though as it seems Google is focussing on their new Drive and Play Store offerings for cloud storage.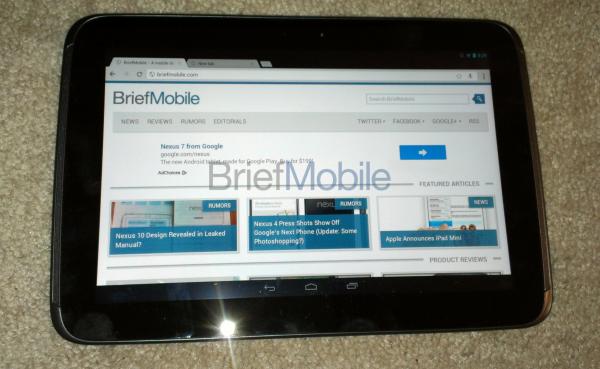 Samsung has pushed the boat out with regards to the display that measures 10.1-inches with 2,560 x 1,600 resolution, which leaves the iPad Retina Display in its wake with around 298.9ppi compared to 263.92.
The tablet will also feature a five megapixel rear facing camera, Wi-Fi, Bluetooth 4.0, and NFC compatibility, and the source is claiming the Nexus 10 has brushed aluminium back with rubber coated edges in a really light and thin form factor.
This latest leak adds to the numerous reports we have heard about the LG Nexus 4 and Nexus 7 devices that have emerged recently. Do you like the look of the Nexus 10?