Samsung possibly expanding beyond Galaxy Note 2 and tablets
The Samsung Galaxy S3 has been a great success for Samsung as has the original Samsung Galaxy Note, and the Samsung Galaxy Note 2 looks to be heading for success as well. Most Galaxy devices seem to do well in the mobile space, and it looks like old Sammy is going to capitalise on that popularity by expanding their Galaxy Note line even further.
According to a report by Android Central by way of Sam Mobile, it looks like Samsung has another Galaxy Note device up their sleeve, a possibly smaller Galaxy Note tablet found in a DNLA certification service, and currently referred to as the Samsung GT-N5100.
Apparently thus far all Samsung's GT-N devices have come out to play as a Galaxy Note device, the original Samsung Galaxy Note was the GT-N7000, whilst the Samsung Galaxy Note 2 was the GT-N7100, and the Samsung Galaxy Note 10.1 was the GT-N8000, which suggest that this new device is in the Note line.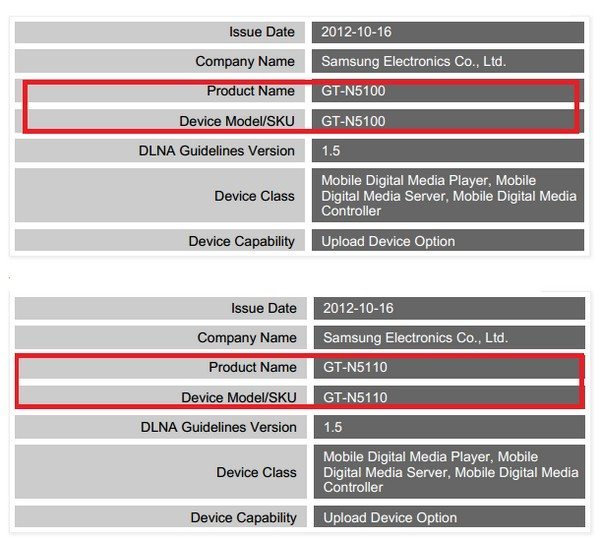 It is suggested that the GT-N5100 could possible be a Galaxy Note device sitting somewhere between a 7-inch or 9-inch tablet and thus filling the gap between the Samsung Galaxy Note 2 and the Note 10.1, but aside for the number of the device we don't know anything else, other than according to Sam Mobile the GT-N5100 will have an HD display and sport the same processor as the Samsung Galaxy S3, the 1.6Ghz Exynos 4412 quad core processor.
If and only if, Old Sammy does have another Galaxy Note device up their sleeve, it would be fair to assume that there is a good possibility that the Korean company might unveil the device during CES 2013 in Las Vegas in January or perhaps Mobile Word Congress 2013 in Barcelona in February, with MWC seemingly more likely considering Samsung unveiled the Galaxy Note 10.1at the event last year.
So there you have it, it does appear that old Sammy just might be delivering a new Note device later this year is all turns out spot on of course.