iPad Mini Smart Cover Cases in stock, order now
The new Apple iPad mini will be ready to ship in just 2 weeks time, but you can now head on over to the Apple Store and buy the iPad Mini Smart Cover case right now and receive it within 1 to 2 business days. There are a few consumers that have already got their hands on one of these covers for the little tablet, please do read on.
Cody Lee via iDownloadBlog received his iPad Mini Smart Cover via FedEx as so did a reader via AppleInsider, you can now head on over to the Apple Store online and get your Polyurethane cover right now, these come in blue, pink, light grey, dark grey, green, and in Product Red, starting from $39 (£35).
We just love the pictures that AppleInsider offers; you get to see what they look like in detail rather than professional photos via the Apple Store. These New iPad mini smart covers come with a non-metal hinge mechanism unlike previous iPad covers that we all know scratches the side of the metal unibody, this time round the scratches will be non-existent.
The full size iPad came with both leather and polyurethane versions, but this time round the iPad mini versions will only come in polyurethane, for the time being anyway. The iPad mini covers this time comes with magnets on the side but these are covered with microfiber and polyurethane, this means the black and slate or white and silver tablets will not have the scratch effect.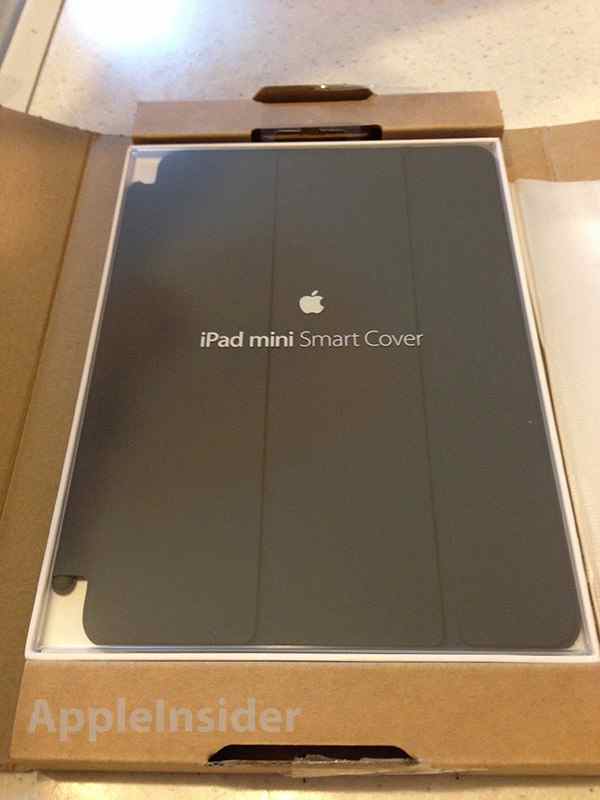 Wonder if they will release covered hinged covers for the iPad 4? Please do let us know if you have got the iPad mini smart cover yet, and of course if you have ordered your iPad mini tablet? If you have not ordered your Smart Cover yet please head on over to the Apple Store — UK – USA