LG Nexus 4 coming to O2 UK in November
If you are over this side of the pond in the United Kingdom and your preferred UK carrier is O2, and you have had your beady eyes on the latest upcoming Android smartphone, the LG Nexus 4, it just might be of interest to you to know that O2 UK will offer the LG Nexus 4 as of some time next month, although just when in November hasn't been revealed.
Thus if you are after the LG Nexus 4 from O2 UK, you will need to hang on a bit longer before you can pre-order the Android Jelly Bean smartphone from the carrier, but their Nexus 4 page does say coming soon.
No doubt if you are indeed waiting for the Nexus 4 to hit UK shores you will know what the Android smartphone has to offer, but in case you missed it the device offers a 4.7-inch WXGA IPS touch screen with 1280 x 720 pixels at 318ppi, Corning Gorilla Glass 2, along with a 1.5GHz Snapdragon S4 APQ8064 quad core processor.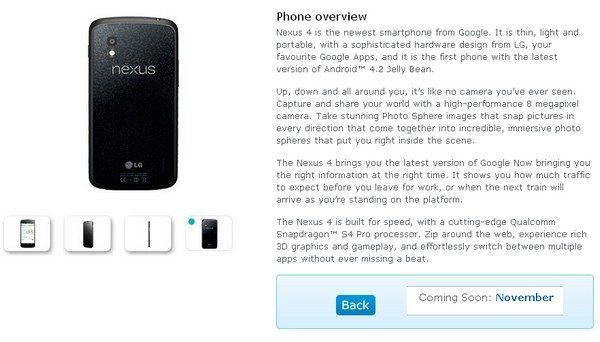 The LG Nexus 4 also comes with an 8 megapixel auto-focus rear facing camera with LED flash, a 1.3 megapixel front facing snapper, 1080p video, 2GB of RAM along with 8GB and 16GB of internal memory options, A-GPS, 802.11b/g/n WiFi, Bluetooth, NFC Android Beam, and of course Android Jelly Bean 4.2 OS.
Size wise the Nexus 4 measures 133.9 x 68.7 x 91mm, with a weight of 139 grams, sports a 2100mAh battery, and features wireless charging functionality, with Google releasing a wireless charging solution for the Nexus 4 called the Google Wireless Orb.
There is currently no word on what price tag O2 will attach to the LG Nexus 4, but at least you now know the device should land on the carrier sometime in November. Will any of our Brit readers be hitting up O2 to pick up the Nexus 4?