Motorola RAZR i Puerto Rico release by Claro
If you happen to live in Puerto Rico, and have a penchant for Motorola Android smartphones, and have had your eye on the Motorola RAZR i, an Intel powered smartphone with an edge-to-edge display, you just might like to know that Motorola Mobility along with Claro have now introduced the RAZR i, which can be purchased later this week.
I'm pretty sure most who had had their eyes on the Motorola RAZR i will know that the smartphone is powered by a 2GHz single core Intel Atom Z2460 processor and features a virtual border-less design along with a 4.3-inch Super AMOLED touch screen, whilst the RAZR i will be available in Puerto Rico as of this week exclusively with Claro.
The president of Claro Puerto Rico, Enrique Ortiz de Montellano has said that the Motorola RAZR i is an important addition to Claro's portfolio of handsets, and they are confident the RAZR i will be another great success for the Motorola and Claro alliance.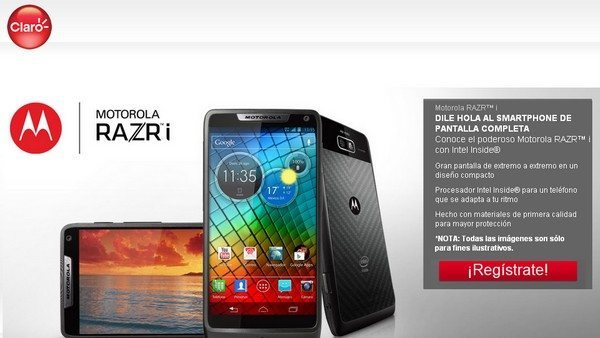 Spec wise the Motorola RAZR i, apart from that display and processor, offers the customer Corning Gorilla Glass to protect from scrapes and scratches along with a Kevlar back, an 8 megapixel rear facing auto-focus BSI camera, 1080p video, a 0.3 megapixel front facing camera, runs Android Ice Cream Sandwich, and upgradable to Android Jelly Bean, Wifi, Bluetooth 2.1, NFC, Android Beam, DLNA, 8GB internal memory, microSD expansion up to 32GB, and a 2000mAh battery.
The commercial director of Motorola Mobility Puerto Rico, Roberto Agostini, has commented that the Motorola RAZR i has an instant launch camera, which can snap 10 images in under a second, along with loading web pages blazingly fast, and is a handset that is perfectly sized for the palm.
For those in Puerto Rico that might be interested in picking up the Motorola RAZR i, the Android smartphone is available by hitting up the Claro website, where the handset is offered for free on monthly plans starting at $59.58.