Nokia Lumia 920 & 820 Wireless Charger DT-900 review
The leading smartphone manufacturers try to provide new devices that offer something different from the competition whether it is some software feature, or something else. Nokia has decided to offer its new Window Phones 8 hardware with wireless charging, and we now have a review of the Nokia Lumia 920 and 820 DT-900 Wireless Charger for you.
Wireless charging is nothing new but not widely available in the smartphone market, but the team over at NokNok have been spending some time with the Nokia Wireless Charger DT-900, which actually works with any Qi compatible device.
While the flagship Nokia Lumia 920 ships with wireless charging built in, purchasers of the cheaper Lumia 820 can add the feature to the device by changing the rear shell of the device, but in the UK this comes free with the handset.
All you need then is the actual charging plate and away you go by simply placing your Lumia handset onto the mat to start charging it. During the review the charger was placed at an end of a desk that is often a place where things such as keys or wallets are placed, so will be ideal to leave your handset in the same place while it is charging.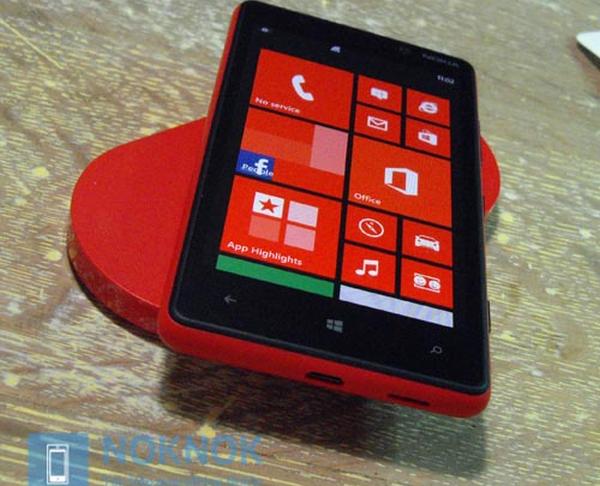 By using the Qi standard owners of the charging device will not just be limited to re-charging their Lumia smartphone, as any product that is also Qi branded can be charged on it. The DT-900 is the most affordable charging solution in the new range and is made up with a mains adapter that is plugged into the wall socket, and is connected to the charging plate via a 1.8 metre cable, while the actual charging mat itself measures in at 120mm x 60 x 10mm.
As soon as the handset is placed onto the mat a small LED light on the front illuminates to make you aware that the device is charging, and the handset doesn't have to make direct contact with it for the charging to commence, so the mat can even be placed inside a cushion if you so desire.
The only problem that was found with the DT-900 was it was quickly filled up with devices charging, and another one would be useful as it is so easy to use. There is a good chance that other mainstream smartphone manufacturers will follow Nokia's lead and start developing mainstream devices that offer a similar feature, which will improve the clutter in some draws where numerous chargers sit.
Do you like the idea of wireless charging?