Star Wars Angry Birds official gameplay release
If you are a gamer in the mobile space, I'm sure you will already be aware that Rovio is expanding their Angry Birds game to draw in the multitude of Star Wars fans out there by releasing the Angry Birds Star Wars game in a couple of days time. The new game based on Star Wars characters will be officially released on the 8th of this month, and Rovio has now released a new official video showing off the gameplay.
Of course we have that new Angry Birds Star Wars official gameplay trailer for your viewing consideration below, along with a few other gameplay videos, where we get to see that Angry Birds can now attack those pesky green pigs with lightsabers and blasters.
No doubt the Angry Birds Star Wars game will be a huge hit for Rovio, especially as the game maker has included most of the famous characters from the extremely popular science fiction saga, including Obi-Wan Kenobi, Darth Vader, Han Solo and Chewbacca, lovable droids R2-D2 and C-3PO, and of course Luke Skywalker and Leia.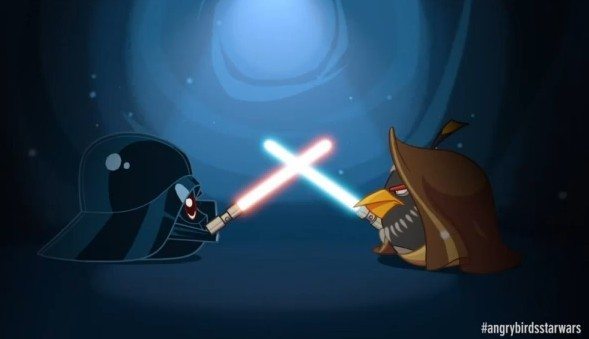 However, Rovio releasing a Star Wars version of their Angry Birds will have to be very good in order to get the devoted followers of Star Wars on side, but looking at the gameplay videos below it does look like the game will be quite fun to play.
In the footage you will also notice the famous Star Wars music, and hopefully the game will include that music otherwise it couldn't really be classed as Star Wars could it.
Angry Birds Star Wars will be officially released on the 8th of November to iOS, Android, Windows Phone, Kindle Fire, PC, Mac, and Windows 8, but until then you can check out the gameplay footage by heading on down and mashing those play buttons…enjoy.
Will our readers be hitting up their respective app stores to grab a copy of Angry Birds Star Wars as soon at it becomes available?