iPad mini vs Nexus 7 vs Kindle Fire HD in display fracas
Well Apple has finally stepped into the smaller tablet space with the arrival of the iPad mini, a device that is set to take on rival slates such as the Kindle Fire HD and the Google Nexus 7 so that Apple can grab a nice slice of the smaller tablet market share, but how do these three slates compare display wise?
With this in mind, Displaymate have done a comparison between the iPad mini, Google Nexus 7 and Amazon Kindle Fire HD running a series of display tests and also compared them to the iPad 2 and new iPad 3.
Many of the iOS faithful were expecting the iPad mini to come with a Retina Display; however that would require a 326ppi display along with in excess of four times the display area of the iPhone 5. As Apple has stuck with 1024 x 768 or 2048 x 1536 displays, it means that the smaller iOS slate had to be 1024 x 768 with 163ppi, which is now considered somewhat on the low side.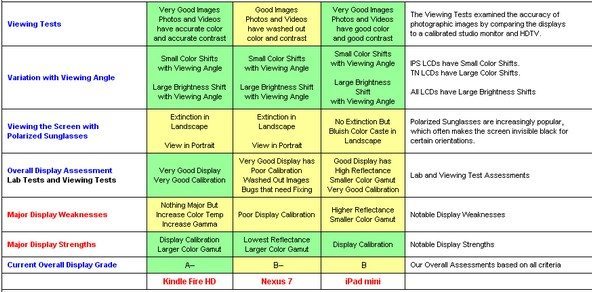 Screen resolution is basically only critical for delivering visually sharper text, and both the Nexus 7 and Kindle Fire HD have 216ppi, which means they both have sharper displays than the Apple rival slate.
When it comes to screen reflectance, the iPad mini is high at 9.0%, whilst the Kindle Fire HD is 6.4% and the Nexus 7 is quite lower at 5.9%. Thus Apple's smaller tablet reflects 53% more ambient light than the Google slate, and 41% more than its Amazon rival, whilst both iPad rival devices offer better contrast under high ambient light.
As for colour gamut, both the Nexus 7 and Kindle Fire HD deliver 86% colour gamut, whilst the colour gamut on the iPad mini is 62%, which is on par with the iPhone 4 and Apple iPad 2, whilst the iPhone 5 and new iPad have 100% standard colour gamuts.
In conclusion the comparison found that although the iPad mini is a capable smaller slate with a capable display, the displays on both the Google Nexus 7 and the Amazon Kindle Fire HD outperformed the smaller iOS tablet in most of the tests.
So there it is, it seems that the iPad mini display is out shined by the display on both the Nexus 7 and the Kindle Fire HD.