iOS 6.0.1 problems with messages, Gmail and Facebook app crashing
When iOS 6 was first released several weeks ago, amid the praise for new features and improvements came criticism about problems. Apple then released the 6.0.1 update a few days ago, which was supposed to rectify many of these issues. However, there are still ongoing problems with WiFi as well as battery life, messages, Gmail and the Facebook app crashing and some of our readers have added to the growing numbers of people reported to be having problems.
After iOS 6 many iOS device users reported WiFi problems and large amounts of iPhone 4 and 4S users reported battery issues after the update. Yesterday we discussed the latest iOS 6.0.1 update that people had hoped would fix various issues they were experiencing and we told how many people still seemed to be having WiFi problems, again this seems to particularly affect iPhone 4S users. We had plenty of response to our article from readers who are not only facing this issue but also having other problems with their iPhones and iPads following the iOS 6.0.1 update.
Among the complaints about the iOS 6.0.1 update that we received from readers were apps closing down (so that for example whilst creating a text to send it shuts down halfway through), inability to open Google mail, problems with audio, a glitch that turns the phone on and off, problems charging and numerous other issues that people are finding highly frustrating. These are just a few examples of readers' complaints about iOS 6.0.1 but there are many other problems reported that are also significant and very annoying for users. We have also heard for instance that the iOS Facebook app is also crashing for many so instead of the fixes that everyone was expecting, the latest update seems to have just prolonged the agony or even added new woes for many users.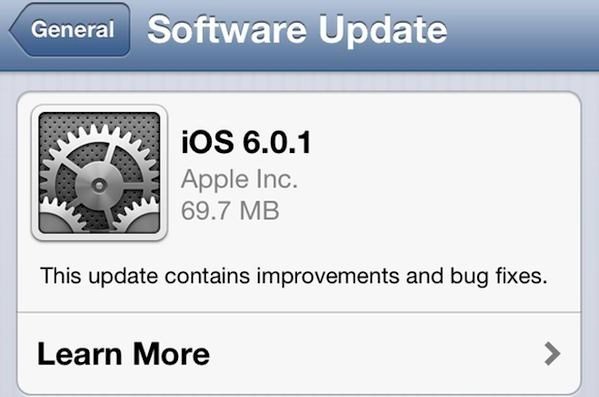 We previously mentioned that there were widespread reports of users iPhones having far less battery life after 6.0 and I myself noticed my iPhone 4S battery was not lasting so long. Many of our comments to yesterday's posts also discuss that this battery issue still exists and after updating to iOS 6.0.1 I have to say that I also have noticed no improvement to my iPhone's battery life. Therefore it seems that although a WiFi fix may have come to some iOS device users, the iOS 6.0.1 update certainly hasn't worked for many people and the above problems have made things worse not better for some iPhone and iPad users.
We're really interested to hear from readers about the iOS 6.0.1 update. Maybe you're one of the lucky ones who have noticed an improvement from the 6.0.1 update? On the other hand maybe you're still having difficulties with WiFi, battery life, messaging, apps crashing or any of the other myriad of issues that still seem to exist for some? Let us know with your comments.