iOS 6.0.1 update and persistent problems
Roughly seven weeks ago Apple delivered iOS 6 to Apple device users, and with the arrival of the new operating system came quite a few problems, including issues with Apple Maps, battery issues reported with the iPhone 4 and 4S, and also WiFi problems. A few days ago Apple pushed out an update bringing it up to iOS 6.0.1, but it appears that the company still hasn't managed to fix the issues with WiFi, along with other problems.
One would have thought that by now Apple would have sorted the problems customers are experiencing with WiFi, but apparently this is not the case, as a report over on Zdnet has it that iOS 6.0.1 is still suffering from WiFi problems with customers reporting it is still inaccessible.
This issue still appears to be hitting those that own an iPhone 4S more than any other users; however any device running iOS 6x could be affected with a greyed out WiFi option, with the suggestion from Apple being make sure Airplane mode if off, restart your device, update your device, reset network settings, and restore your iOS device in iTunes.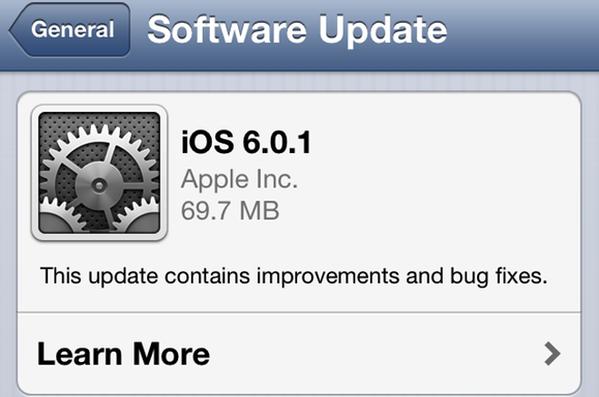 After going through that process if you still experience problems you are to contact your carrier or Apple.
However the operating system update seems to still be annoying some users, as several have posted complaints to Apple Discussions, with one user stating that since updating, their iPhone 5 picks up WiFi less since they installed the patch, whilst another says their iPhone 4 still has serious WiFi problems.
Another user reports that the continuous spinning wheel in Safari hasn't been fixed with the software update, but rather appears to happen more since updating, and wasn't exclusive to the iPod, as this has increased on the iPhone 4S and the Apple iPad 2.
Thus it would seem that Apple pushing out iOS 6.0.1 has done very little to alleviate the problems with WiFi along with other issues for the iPhone and iPad user.
So we'd like to hear from any of our readers that own an iDevice and experiencing problems after updating to iOS 6.0.1, and would love you to voice your annoyance to our comments area below…thanks.