Remembrance Sunday 2012 with Bomber Command Memorial app
It wont be long before people turn to remembering those brave men and women who gave their lives during conflict, and this year Remembrance Sunday is on the 11th of November, a day that people show their respect for those lost during war. In the week leading up to Remembrance Sunday, the Bomber Command Memorial has been voted the most popular tourist attraction.
The Bomber Command Memorial was unveiled back in June, and in response to overwhelming levels of interest, the RAF Benevolent Fund has released the Bomber Command Memorial app for iOS devices, an app that lets the user take a tour of the Memorial, in person at the site or at home.
The Bomber Command Memorial app for the iPhone, iPod Touch, Apple iPad and the iPhone 5 delivers a range of visual content that tells the story behind the Bomber Command Memorial, along with featuring an audio guide for when you visit the site, which is situated in Green Park by Hyde Park Corner, London.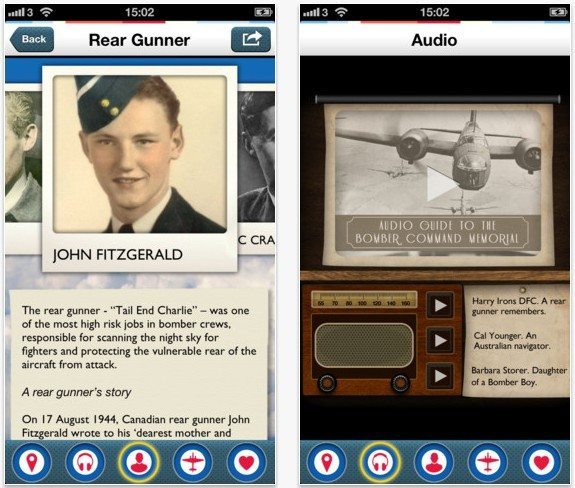 The iOS app also includes exclusive interviews with veterans of Bomber Command, and the daughter of a Bomber Boy that never returned, giving moving personal stories on what the Bomber Command Memorial means to them.
The application also offers infographics and archive photography to bring facts and figures behind those Bomber Command aircraft and men to life. During WWII, young men from all over the globe volunteered to serve in the RAF in Bomber Command, 55,573 of those never returned.
For those iOS faithful that would like to take advantage of what the Bomber Command Memorial app has to offer you can download the application to your chosen iDevice from iTunes at a cost of £0.69.