Samsung Galaxy Stellar Review for Christmas Shoppers
Samsung are probably best known for their hugely successful Galaxy S and Galaxy Note range of high end smartphones. Fortunately manufacturers such as Samsung also offer consumers cheaper products but still with some worthy specifications, and today we have the Samsung Galaxy Stellar review in time for all those Christmas shoppers.
The company has been busy adding to its more affordable smartphone range recently, and the Stellar is one of these handsets that is available via US carrier Verizon Wireless. As can be expected the device is not in the same league as the Galaxy S3, but this is reflected in the price that works out free after a $50 mail in rebate and a new two year contract.
There is a 4-inch WVGA display with a resolution of 800 x 480 that is powered by a dual core Snapdragon S4 processor clocked at 1.2GHz coupled with 1GB of RAM. Onboard storage comes in at 4GB but can be expanded further via microSD card, which is just as well as the apps that come preloaded on the handset brings the available user space to under 2GB.
The smaller screen size gives the device a more compact feel that also makes the handset feel rather light weight, and you get the Android Ice Cream Sandwich operating system running on the device. Some will be disappointed at the lack of Jelly Bean but the device isn't aimed at consumers that want the latest and greatest handset.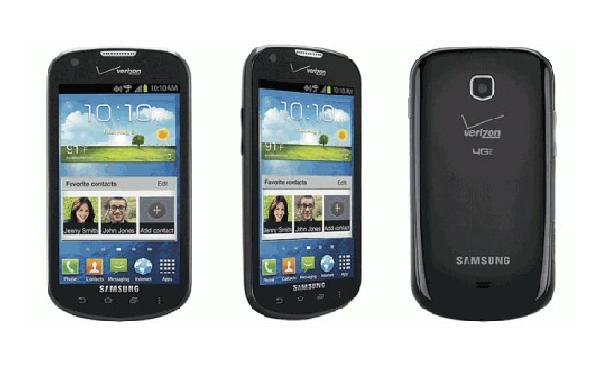 Those that are owning their first smartphone with the Galaxy Stellar may like the Starter mode that fills five home screens with a selection of preset widgets, but you can easily toggle between the standard mode if you prefer. One thing that is a welcome addition is the 2100 mAh battery pack that considering the specs will offer a great battery life.
Camera wise the Stellar only features a 3.2MP rear shooter with a 1.3MP front facing unit, and this won't be ideal for those that want to take plenty of photos at a high standard. While the handset won't have the bragging rights of some other more expensive devices, for someone stepping up from a feature phone it offers some worthy specs at that all important low price point.
Do you think the Samsung Galaxy Stellar make a perfect Christmas gift for someone?