Vodafone Smart Tab II Android slate priced and available
Over here in the United Kingdom and want to get your hands on a reasonably affordable 7-inch Android tablet in time for Christmas? Well then you might like to consider the Vodafone Smart Tab II, which the carrier has now officially announced and made available to purchase.
The Vodafone Smart Tab II is built by Lenovo and sports a 7-inch 1240 x 600 touch screen along with a 1GHz processor, 4GB internal memory and microSD expansion up to 32GB, a 2 megapixel rear facing camera and a 0.3 megapixel front facing snapper, Bluetooth and DLNA, whilst Facebook and Twitter apps are pre-installed.
The Android tablet is 11.5mm in thickness, is both 3G and WiFi enabled and runs the Android Ice Cream Sandwich operating system.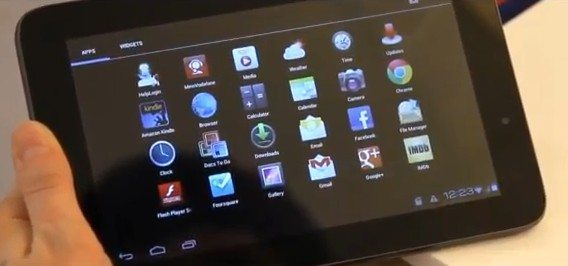 The Vodafone Smart Tab II is available on both pay monthly and Pay As You Go options, and those that wish to go the pay monthly route, the Android slate will cost £29 and at £20 per month over a 24-month period for which you will receive 2GB of internet data along with 1GB UK WiFi.
If you would rather take the PAYG option, the Vodafone Smart Tab II will set you back £150, with top up included along with 500MB data for 60-days, and additional top ups are £5 for 250MB data for 30-days, and can of course be purchased by visiting the Vodafone UK website.
For those that might be interested in the Vodafone Smart Tab II, we have embedded a short video of Vodafone touting the new Android tablet for your viewing consideration below, so don't forget to hit that play button to check out the footage.
Will any of our UK readers be purchasing the Vodafone Smart Tab II in time for Christmas?