Libon iOS app, Orange clearly gone mad
As well as bringing readers all the gen on new smartphones and tablets we also enjoy telling readers about new apps and today it's the turn of Libon — Free calls with a smart voicemail. The app comes from Orange Vallee, a company that develops innovative products and is also a division of France Telecom's Orange. However, the fact that Libon seems to encroach on Orange's service makes us wonder if Orange has gone mad!
The Libon app for iOS devices essentially allows users to call other Libon friends around the world free of charge via data connection and although there are other apps offering a similar service, it does seem rather odd that a mobile operator division has come up with this app that will directly impact Orange's own service. When considering that the Libon mobile service within an app and other services like it could replace the current services of mobile carriers, it seems like a bad business move on the part of Orange not to restrict it to its own subscribers.
Of course you could also argue that the possibility that data-based services such as Libon may one day well replace customary mobile network services, means that far from Orange going mad, the company is simply looking ahead with very forward thinking but we'll have to wait and see on that one. At the moment the new Libon app is available for iOS devices through iTunes here but an Android version will also be released soon. Although Libon offers free calls it also offers premium features for a small monthly payment.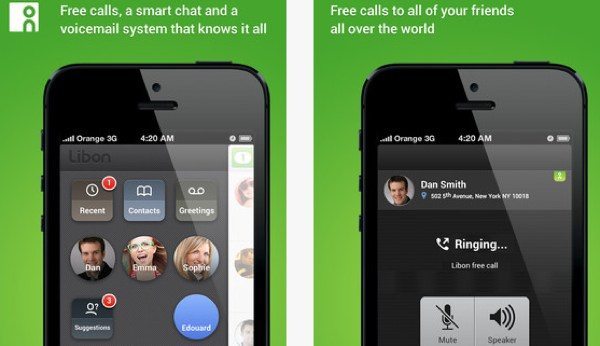 The Libon app is free and compatible with iPhone, iPad and iPod touch running iOS 4.3 or later and has been optimized for the iPhone 5. It offers free unlimited HD quality mobile calls with other Libon contacts, as well as free instant messages and pop-up notifications for incoming messages. There's also an excellent voicemail service with plenty of features such as visual voicemail and custom greetings. The premium service costs £1.99/$2.99 monthly and offers the usual services as well as one hour of international calls to landlines or mobiles across 31 countries, unlimited number of voicemail greetings and much more.
We're interested to find out what readers think about the new Libon iOS app. Will you be downloading the app for your iOS devices, or maybe waiting eagerly for the app to arrive for the Android platform? Why not send your comments and give us your thoughts on Libon.