Marvel Avengers Initiative for Android, compatible device list
Of course at Phones Review we spend much of our time informing readers about phones, tablets and accessories but we also like to bring occasional news about some of the latest apps available. Today we are looking at the Marvel Avengers Initiative app for Android and also a compatible device list. This game is likely to be a huge hit so read on for further details.
Avengers Initiative can be downloaded from Google Play here and is billed as the first installment of "Marvel's biggest cross-over mobile gaming event. The episodic series, designed for touchscreen devices, sees Hulk in the first adventure and players need to help The Avengers against enemies such as Abomination, The Kronan, The Skrulls and Wendigo. You'll need to save the world from disaster after top-secret S.H.I.E.L.D facility The Vault in the Rocky Mountains lets out villains and monsters who should still be imprisoned. This app is compatible with select Android devices running Android 4.0 or later and priced at $4.99 /£3.13. The complete compatible device list is as follows —
Asus (Google) Nexus 7, Asus Transformer Prime, Asus Transformer,
HTC One X, HTC Evo 4G, HTC Incredible 4G,
LG G2x, LG Nitro HD,
Motorola Droid 3, Motorola Atrix 4G, Motorola Photon Q 4G,
Samsung Galaxy Nexus, Samsung Galaxy 2, Samsung Galaxy 3, Samsung Galaxy Note, Samsung Galaxy Tab 7.7,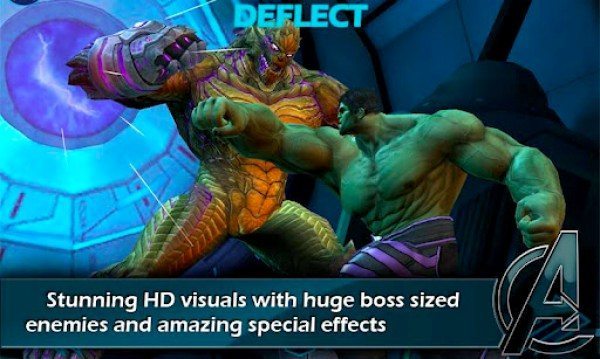 Hulk is reluctantly recruited by Nick Fury aboard the S.H.I.E.L.D. Helicarrier in a mission to round up monsters leaving other Avengers to try to solve who bust open The Vault and why. Amazing features of the app include brilliant HD visuals and unique customization, with a fully customizable HULK and exclusive costumes, the ability to unlock super-powered abilities and also upgrade combat stats. You can see the official launch trailer video for Avengers Initiative below this story.
Also featured is episodic content with updates, character reveals and events along with a free live service, Marvel XP, that rewards achievements, tracks progress and works across multiple games such as Avengers Alliance on Facebook. With Marvel XP, gamers can unlock achievement badges, character profiles and more exclusive bonus content. This is a complete gesture based action game with super-powered combat offering impressively speedy swipe, attack and combo controls and looks likely to be a big success with enthusiastic Android gamers.
We'd like to hear your thoughts on the Avengers Initiative Android app from Marvel Games. Maybe you've already tried it in which case how would you rate it? Send us your comments to let us and other readers know.