Official HTC Deluxe DLX eye candy, shares Droid DNA flaw
The release of the HTC Droid DNA has gone down pretty well in North America, but don't worry if you live outside the USA because the international version is not far behind. The HTC Deluxe DLX is inbound and we now have some official eye candy for you to enjoy — we love the white version — but can't help notice that it looks to be sharing the same Droid DNA flaw.
Spec wise the latest HTC handset does have a lot going for it and while we cannot say for certain if the Deluxe DLX will only have a 16GB storage capacity (11GB being available to the user), it does look as though it will lack a microSD card slot. We can't be positive, but if you take a closer look at those images it's not looking too good is it?
In a perfect world one would presume that HTC would give the International version of the Droid DNA a larger storage option or a microSD card slot, but it looks as though the release of the HTC Deluxe DLX is not going to differ that much to its US counterpart — which we have to say is a shame.
The reason we say this is because when we have a look at many of the comments that have been coming in for the DNA, one of the biggest issues users have is with the limited storage options available to them, would you share in this opinion?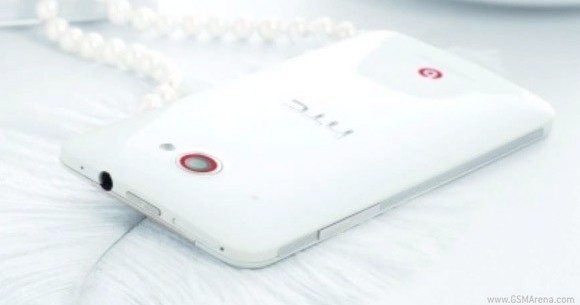 Let's not presume that the HTC Deluxe DLX will not have a larger storage capacity or a microSD card slot, but it's not looking to good for the latter when you take a look at the images on GSM Arena.
Anyway that's enough negativity, we should be happy that the HTC Deluxe DLX is coming to the likes of the UK and will come in a choice of three colors, white, black and brown and will come with the same 5-inch Super LCD3 full HD screen, and that pretty impressive 1.5GHz Snapdragon Krait quad-core processor.
We're not certain as to when the release of the HTC Deluxe DLX will be released, but we can tell you that more information will become available to us on December 6, 2012.
Will the battery be up to the task? Many questions have been asked in regards to the Li-Ion 2020 mAh battery, as there were concerns that it was not up to the job. However, if (and we have no reason to doubt it) the Deluxe DLX shares the same battery as the Droid DNA, then you'll be pleased to know that it has proved very well in a number of tests, which we recently discussed.
What would you like to see different in the international version of the Droid DNA?