HTC Deluxe DLX possibly skipping Europe
Over in the US the HTC Droid DNA smartphone is doing quite well, and not too long ago the word was that the international version of the Droid DNA, the HTC Deluxe DLX was touted along with a couple of renders. So one would expect that as the Deluxe DLX is supposedly the international version of the Droid DNA, the Android handset would be destined for Europe at some point.
However, this doesn't appear to be the case, as according to a report over on GSM Arena, it appears that the HTC Deluxe DLX might not be destined to play nice on European shores. Word that there is a possibility the DLX wont come to Europe was posted to HTC's German Facebook page.
Someone interested in owning the HTC Deluxe DLX posted a link to one of evleaks renders of the Android smartphone, and HTC replied to that posting saying that the device "will unfortunately not come to Europe."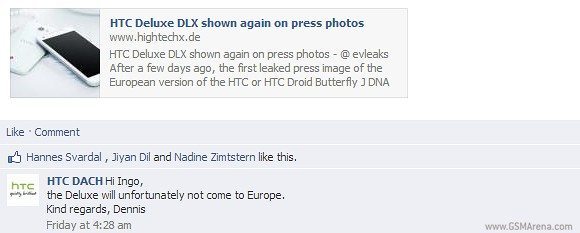 Of course this could just mean that the HTC Deluxe DLX will not come to Europe sporting that particular moniker, and could land on European soil under a different handle. Or perhaps it has been decided that the 5-inch 1080p handset will remain just in the United States, and in Japan where it is known as the HTC J Butterfly.
Usually when these sort of things pop up, a manufacturer normally keeps quite preferring not to comment on rumour and speculation, so it is a bit surprising a spokesperson for HTC would come straight out and announce the device will not be coming to Europe, so there is always a chance it could be a mistake.
Of course the HTC Deluxe DLX could be a handset that is destined for other US carriers, and that the international version will arrive in some other disguise at a later date. But it does seem that for now at least, the HTC Deluxe DLX is not going to be available to the European Android faithful.
Does this news disappoint those in Europe who had hoped they would be able to snap up the HTC Deluxe DLX at some point?