Nokia Asha 205, 206 adds Facebook button and Slam
It seems never a day goes by without more new smartphones being announced or leaked and today it's the turn of the Nokia Asha 205 and Nokia Asha 206. These two new affordable phones have just been announced by Nokia and introduce a new Facebook button as well as Slam, a new service enabling fast content sharing.
The Nokia Asha 205 is aimed at being a social phone and has a QWERTY keyboard and also a new Facebook button giving users speedy access to their Facebook profile. As well as this the new Nokia Slam feature is present and this means that multimedia content can be shared virtually instantly with nearby friends. Most Bluetooth-enabled phones can benefit from Slam (not iOS or Windows Phones) and there's no need to pair devices and no requirement for the recipient also needing to have Slam. Users can simply 'Slam' content without using Internet data.
The Nokia Asha 205 can be purchased as a single SIM or dual SIM model and has a standby time of up to 37 days with single SIM or up to 25 days with dual SIM. This social phone also features eBuddy Chat, Twitter and email support for Gmail and more. There's also a mobile entertainment package available that includes 40 free EA Games to download and it comes in Cyan, Magenta and Orange color options. The price will be around $62 excluding taxes and subsidies and it will release in Q4, 2012. You can find out more at this Nokia link.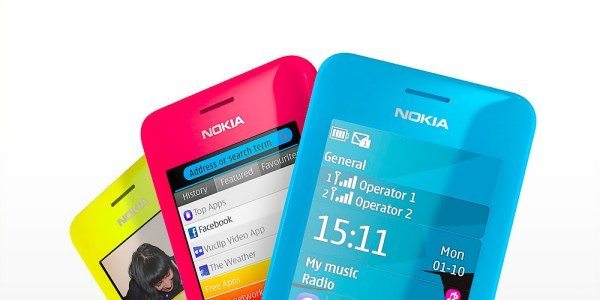 Meanwhile the Nokia Asha 206 also comes in a single SIM model or dual SIM model with standby time of up to 47 days with a single SIM and up to 28 days for the dual SIM model. It also has the new Slam feature and it has an alphanumeric keypad and 2.4-inch display with quick Facebook and Twitter access from the home screen. It also has imaging technology optimizing the 1.3-megapixel camera, an entertainment package including eBuddy Chat, WhatsApp (only on single SIM model) and 10 free premium content items.
The price of the Asha 206 is around $62 excluding taxes and subsidies and again this one is heading for a release in Q4 this year. It comes in bright color options of Cyan, Magenta and Yellow. See more at this Nokia product link. Both of the above devices also benefit from the Nokia Nearby web app and also the Nokia Xpress Internet platform using cloud technology.
We wonder what you think of these two forthcoming smartphones from Nokia? Which would you favor and why? Send your comments to let us know.