Nexus 4 for Three UK, contract and outright prices
The LG Nexus 4, also referred to as the Google Nexus 4, is the hottest smartphone right now, selling out almost instantly when it finally went on sale through the Google Play Store in regions worldwide. Today there's some good news as Three has just announced it will be offering the Nexus 4 from December 13 and we have details of contract and outright prices.
Although there has been the odd problem or two with the Nexus 4, none of its issues appear to be too widespread and can be viewed as teething problems that often occur with a newly launched smartphone. We think a lot of the Nexus 4 here at Phones Review and there's a huge amount to praise about the latest pure Android Nexus phone such as its 1.5GHz quad-core processor, 2GB of RAM, 4.7-inch True HD IPS display with resolution of 1280 x 768, and the fact that it runs the very latest Android operating system update, 4.2 Jelly Bean. As it's a Nexus phone this means it will always be among the first devices to receive further Android OS updates. All this and its extremely reasonable price always guaranteed that this phone would fly off the shelves.
We have already given ordering details through Google Play where the 8GB version is sold unlocked for £239 while the 16GB version is £279 but if you head to Google Play now you'll find that both models are still sold out with no indication of when further stocks will be available. In the UK the Nexus 4 is also available unlocked through the Carphone Warehouse but the SIM-free version is more expensive to purchase there than directly through Google Play.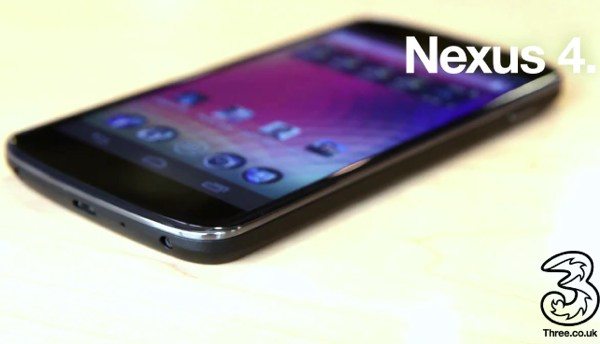 Now Three UK has announced its Nexus 4 deals and although there are no December bargains it does give an alternative route to Google Play and of course if you don't want to pay the full price upfront then you can choose to purchase with a contract. We'll start with purchasing on PAYG through Three and that will cost you £399.99 (presumably for the 16GB) version plus a top up. That's a good deal more than if you purchase through Google Play. However as Google has no stock in at the moment some of you may be tempted to buy through Three if they do indeed manage to get stock from December 13th as announced.
Alternatively Three also states that the Nexus 4 will be available on contract and one of the best monthly deals is £35 on its unlimited data plan. You'll need to pay only £29 upfront for the phone and the monthly deal will get you unlimited data, 2,000 minutes and 5,000 texts. The Nexus 4 will be available at www.three.co.uk online and through Three stores but please note if you try to check out the Nexus 4 on the Three site right now you won't find it listed just yet. If you want to see a bit more about the Nexus 4 then check out the video we've embedded below with a first look at the Nexus 4 on Three.
Hopefully Three adds another avenue for trying to obtain the Nexus 4 and we wonder if you will be buying outright or buying on a Three UK contract? If you prefer to buy outright would you pay the extra amount to get the Nexus 4 from Three if they have it in stock and Google Play does not? Let us have your comments.