Galaxy S3 64GB cancelled for UK
If you are over here in the United Kingdom and have been holding off purchasing the very popular Samsung Galaxy S3 in order to grab the 64GB model, it appears you have been holding off for no reason, because the 64GB handset has thus far failed to get into UK stores, and the word is the 64GB SGS3 is not becoming available in the UK.
Not too long ago Clove said they would offer customers the opportunity to purchase the 64GB version of the Samsung Galaxy S3, and placed the Android smartphone up for pre-order as an unlocked and SIM free handset commanding a price tag of £600.
However Clove ranging the 64GB Galaxy S 3 in black depended on how much demand they received for the device, and they would make a decision in a couple of week's time. But apparently that demand wasn't enough, as most customers in the United Kingdom seem to prefer 16GB or 32GB capacity handsets.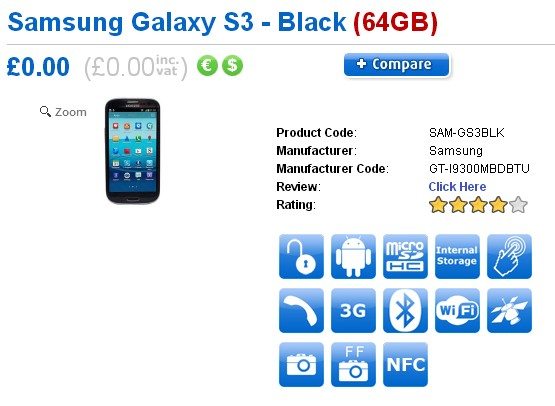 That two week period has now ended and the Samsung Galaxy S3 64GB handset will not be offered to customers by Clove, and as no other network or retailer offers the 64GB model in the UK, it would appear that those that might have liked to own the 64GB version will now not be able to do so.
As such the Samsung Galaxy S3 64GB black page over on the Clove website, no longer shows any pricing for the Android smartphone, and there is now a note stating that they will no longer be ranging the product.
Of course other than the bump in capacity the 64GB Galaxy S3 still offered the same specs and features as other versions, such as that 4.8-inch Super AMOLED HD touch screen, 1.4GHz quad core processor, 8 megapixel rear facing snapper, 1.9 megapixel front facing camera, and running Android Ice Cream Sandwich, but now upgradable to Android Jelly Bean.
No doubt if you were waiting to own the 64GB Galaxy S3 this will come as a bit of a disappointment, and it is looking highly unlikely the 64GB version will ever see the light of day in the United Kingdom. So perhaps it is time to settle for either the 16GB or 32GB versions.
Have any of our UK readers been patiently waiting for the 64GB handset and are now disappointed it wont be made available?