Best Buy discounts latest iOS smartphone
If you are over in the good old US of A and in the market for Apple's latest iOS smartphone this festive season. No doubt you would probably like to be able to pick up the handset for a lower than usual price so you can save a few extra bucks for other things on your Christmas gift list. Well it appears that Best Buy has now given Apple's latest darling handset a nice little discount.
According to a report over on Slash Gear, the firm that also made an unexpected gift of a few iPads to two customers, has discounted the iPhone 5 to the tune of $50 bringing the price tag down to $149.99 for the 16GB model when purchasing from Best Buy.
Of course that discounted price does rely on you signing up for a new two-year agreement, and apparently the $50 discount deal is good for the 16GB, 32GB and 64GB iPhone 5 on both the Big Red and AT&T, although apparently you can't purchase the AT&T iPhone 5 online but have to go into a Best Buy store to get that discounted price.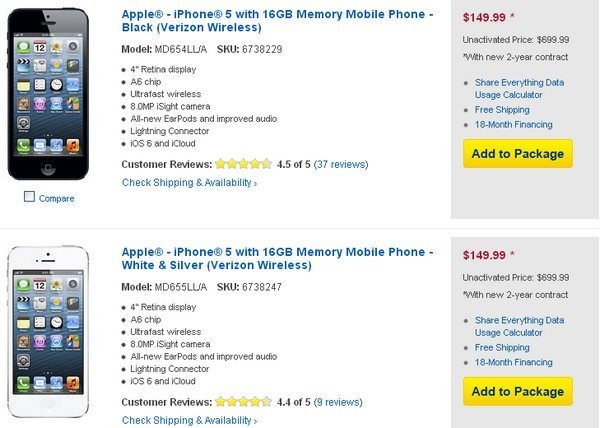 So, normally the 16GB would set you back $199.99 and now only $149.99, the 32GB iPhone 5 would normally cost $299.99 and now with that discount is $249.99, whilst the 64GB model moves from $399.99 down to $349.99.
And as they say any saving is a good saving, and $50 isn't to be scoffed at if you are in the market for an iPhone 5 on either Verizon or AT&T, and who knows, the way things are going with Best Buy slip ups you might receive five iPhones rather than one, as two lucky customers got with ordering an iPad, although I figure that is highly unlikely, but you never know.
So there you have it the iPhone 5 can be purchased for less from Best Buy, will any of our US readers be taking advantage of this price drop?