Nexus 7 official dock captured on video
The Google Nexus 7 tablet which is of course manufactured by Asus, is one sweet 7-inch slate, and no doubt many of the Android faithful will be hoping to find a Nexus 7 in their Christmas stocking this year. However for those that already own the Nexus 7 you could probably do with a dock for the slate.
And at the beginning of this month we reported that an official Nexus 7 dock might arrive in time for Christmas. The official Nexus 7 docking station was spotted on the Asus website and is said to be ready for release sometime this month at lease over in Japan where the word is the accessory will command a price tag of ¥3,480, which is roughly $41.
Now for those owners of the Nexus 7 we have a video for your viewing consideration below that shows off the new Asus dock. The video is called the World's First Unboxing of Google Asus Nexus 7 Dock, and delivers just over a two minute look at the new accessory for the very popular Android tablet.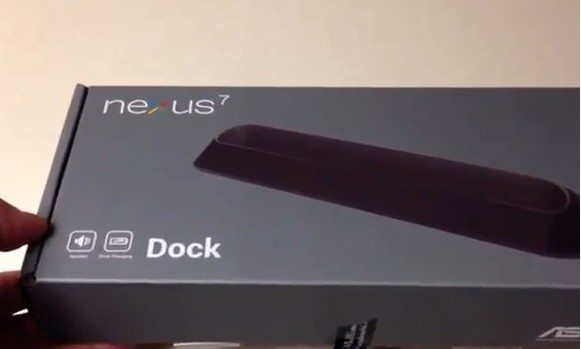 In the footage you get to see the stylish Nexus 7 dock taken out of its box and then shown so you can see what ports there are and also the underside of the device although unfortunately we don't get to see how nicely the Nexus 7 sits in the dock, which would have been a nice touch.
A comment on the video YouTube page by the person who uploaded the footage does state that he purchased the official Nexus 7 docking station from Yodobashi Camera in the Akihabara district of Japan, and he managed to buy it early.
Of course this Nexus 7 dock is available in Japan and thus far there is no word on just when the docking station might become available to Nexus 7 owners in other countries, but lets hope that the device will make it to other markets in the not too distant future.
Of course if you haven't yet purchased the Nexus 7 slate there is still time to do so before Christmas, and the tablet offers a 7-inch LED backlit IPS touch screen along with a 12GHz NVIDIA Tegra 3 processor, 1GB RAM, 16GB or 32GB storage, a 1.2 megapixel camera and runs Android Jelly Bean.
Anyway for those that might be interested in the official Nexus 7 dock you can head on down to hit that play button to see it in all its glory…enjoy.