Wave Alarm for Android snooze motion control
As we have just posted about a new dock for the iPhone that offers a way to hit the snooze button so you can get a few extra minutes sleep when your alarm goes off. We thought it was only fair that the Android faithful also have the ability to activate the snooze feature on their smartphone without too much difficulty. Although with Android we are not talking about a dock with a big snooze button but rather a new app called Wave Alarm.
If you use the alarm feature on your Android smartphone to give you that morning wakeup call, and if you fancy a few extra minutes dosing you probably fumble around for the handset, open your eyes, find the snooze and hit it. However with the Wave Alarm app for Android you don't even have to touch your smartphone to activate that snooze feature.
The Wave Alarm app makes activating that snooze feature much easier by using motion control to activate the snooze, whereby all you need to do is simply reach out and wave your hand over your handset, and without having to open your eyes.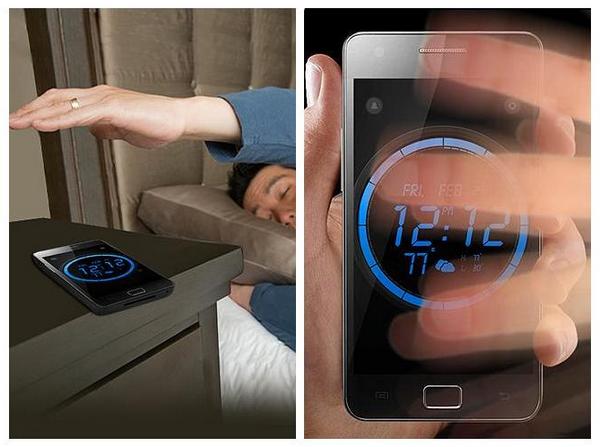 The application utilises motion control and detection so you don't have to touch your device when wanting to have those extra few minutes sleep time, and the Android app features a modern interface with digital and analogue features, brightness control, ten alarms sounds to choose from, real time weather, and background alarms so you never miss a wake up call.
The Wave Alarm app also offers the ability to pick music tracks from your smartphone library to use as an alarm rather than using one of those ten alarm sounds, and removes that annoying fumbling around in the dark to snooze that alarm.
One thing though, if you are contemplating using the Wave Alarm app your Android smartphone does require a front facing camera so that the motion control in the app can pick up when you wave your hand across the device.
Wave Alarm has been available for the iPhone for a while now, but at lease now the app has become available on Android so you can take advantage of the easy to use hand waving to place your smartphone alarm into snooze.
For those Android faithful that would like to make use of Wave Alarm, the application can be downloaded to your chosen Android handset running 2.3 or above as a free download from Google Play.