Verizon HTC Thunderbolt Android ICS update just too late
At Phones Review we are always kept busy keeping readers informed about the latest operating system updates for their devices. The vast majority of our posts on this recently have regarded the Android 4.1 Jelly Bean update coming to various phones and tablets but we shouldn't forget that many device owners are still waiting for 4.0 Ice Cream Sandwich. If you have the HTC Thunderbolt on Verizon we have just learned that the ICS update seems to be on its way at last, but is it simply too late?
We can understand the frustration that many readers feel when updates to their devices take so long to arrive and just yesterday we discussed the Jelly Bean update for the HTC One X. This was announced as rolling out several weeks ago but we had masses of comments from owners of the phone who were still waiting. Spare a thought then for HTC Thunderbolt owners who haven't even received the 4.0 ICS update yet!
Now we hear though that in response to a tweet asking about the HTC Thunderbolt and ICS, HTC USA has declared its intent on Twitter that ICS "will be here soon" for the device. The tweet also thanked the enquirer for their "continued patience." Patience has definitely been required on the part of HTC Thunderbolt owners as HTC originally stated that ICS would come to the Thunderbolt way back in August.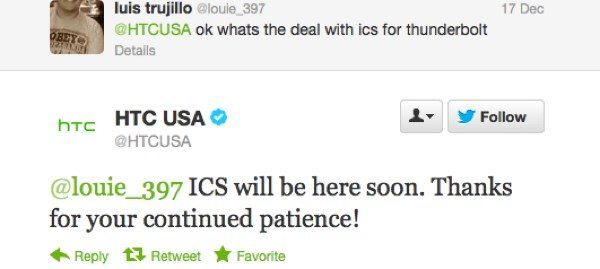 However since that time Verizon and HTC have both remained quiet on the subject with no news given of an expected timeframe for the update and HTC customer representatives giving out mixed information, according to Gotta Be Mobile. Apparently some HTC representatives affirmed that the ICS update for the Thunderbolt on Verizon was still coming but others seemed to dispute this. Of course some Verizon HTC Thunderbolt owners may have resorted to an unofficial update by now but there will be plenty more who have waited for the official update to arrive, something we always recommend.
The HTC US tweet does at last seem to confirm ICS is definitely on its way but sadly still offers no hint of when to expect the update so it could be some time away yet, although of course it could start to rollout imminently. We're always interested to hear from our readers and so if you notice the ICS update is available for your HTC Thunderbolt on Verizon soon, perhaps you could let us know so that we can share the good news? Alternatively you may feel that pushing out the ICS update now to Thunderbolt users is just too late, simply not good enough and shows a disregard for Thunderbolt owners on Verizon? Let us know with your comments.